We all love fall. And really, what's not to love? As the summer heat wanes and the air turns crisp, we break out the flannels from the back of the closet, sharpen our axes for Sunday's log cutting, and spike our warm apple cider with a touch of the good stuff. As nature dazzles us with a warm, painterly hue, we seek the outdoors. From hikes through the mountains splashed yellow with Aspens turning to solitary canoe rides over placid lakes, we can't help but feel the call to get outside and breathe the air before winter's chill sends us to our hearths.
Coming in from a long, lovely day of hiking, camping, or wood cutting leaves us with a glowing feeling, but beneath that lurks a deep hunger. Nothing sates a healthy appetite quite like a warm, smoky curry. Our Red Curry with Beef Jerky takes a quick and simple curry up a few notches with the addition of smoky shredded jerky, adding that hint of spice that warms the belly. After a bowl or two of this hearty dish, you'll be ready for a fire, a good book, and maybe an afternoon snooze.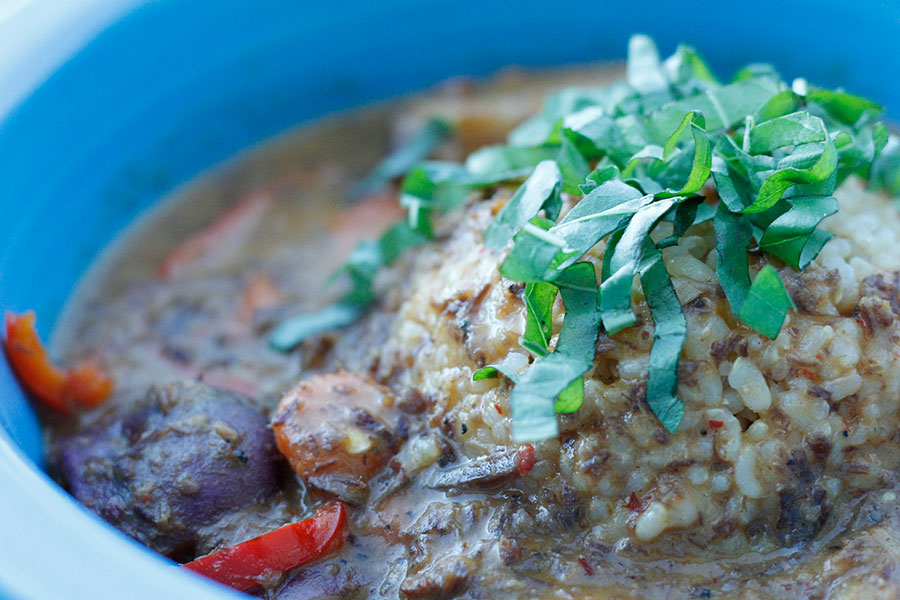 Ingredients:
3 c. cooked rice (follow directions on package)
5 cups canned coconut milk, divided into 1 cup thicker milk and 4 cups thinner milk (natural brands of coconut milk will be separated in the can)
3 Tbsp. red curry paste
1 – 6.5 oz package Mountain America Sweet & Spicy Beef Jerky, shredded (how to shred jerky)
6 small potatoes quartered and parboiled until fork tender
3 medium carrots sliced ¼" thick and parboiled until al dente
1 small red pepper thinly sliced
1 jalapeño minced (optional)
2 Tbsp. Thai fish sauce
½ c. sweet basil leaves, minced
Directions:
Cook rice ahead of time and leave lid on pan to keep it warm. Parboil the potatoes until tender, and carrots al dente.
Heat wok or heavy-bottomed large saucepan over medium-high heat. Add ½ cup of the thicker coconut milk. When it is bubbling, add the curry paste and cook, stirring, for 2 minutes, then add remaining thick coconut milk and cook for 5 to 8 minutes, until the oil begins to separate.
Add the shredded jerky and cook over high heat for 4 minutes. Add the remaining coconut milk, the potatoes, carrots, peppers, and jalapeños (if using) and bring to a boil. Lower the heat and simmer for 5 to 10 minutes.
Stir in the fish sauce and simmer for 5 minutes.
Serve over rice and top with the basil.
Serves: 4-6