How to Cut Jerky for Use in Recipes-Whether using your favorite Mountain America jerky for a backpacking recipe or a salad topper, here are the three best ways to cut the jerky.
Once you realize how versatile jerky can be, you will want to familiarize yourself with just how to cut jerky. The salty tang and high protein content make this a great addition to a camping meal or low carb dinner.
Rough Chop Jerky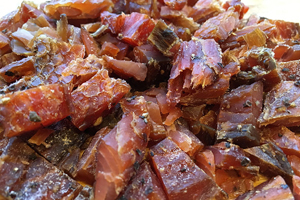 The most straightforward technique to cut jerky, make sure to take appropriate safety precautions. Using a medium large, heavy duty knife, simply chop the jerky. It is a little easier if you go along the grain of the meat, but that is not necessary. Please keep in mind that jerky is a dried meat with a rough texture; you should use a sturdy cutting board on top of a kitchen counter or picnic table.
Shredded in a Food Processor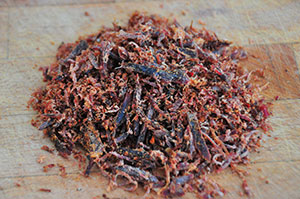 This is a great method if you are in a hurry. Start by dumping the whole package of jerky into the food processor. Pulse for 30-60 seconds, the result resembles shredded jerky in different sizes ranging from small bites to flakes. Shredded jerky would be great on a salad and this method for how to cut jerky will get the job done in a jiffy.
Or With a High Powered Blender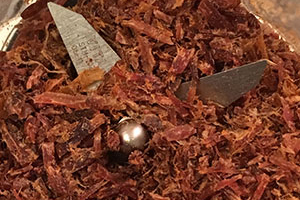 As we've mentioned previously, a high powered blender is our favorite way to chop jerky. It's quick and it's easy. Using a Vitamix start blending the jerky at a low setting, then dial up the variable speed control until about 5 or until the desired consistency is reached. This will give you the most uniform outcome as most jerky bits will be about the same size.
The texture of chopped jerky can be compared to that of a high quality bacon bit. However, chopped jerky gets a major leg up over bacon bits in that the depth of flavor is much more complex. Complex flavors adds versatility especially if you chop one of our favorite jerky flavors, Habanero Beef Jerky or even a Teriyaki Beef Jerky(also available in Salmon and Elk).
Sprinkle chopped jerky around like a bacon bit and see a twice baked potato take on a whole new personality. Another great way to utilize chopped jerky is in an omelet. You get the salty fix that you would from bacon, but virtually no fat.
We love playing around with jerky in our favorite recipes. Go ahead and try a few of these methods on how to cut jerky for yourself and let the culinary experimenting begin!