With spring just nipping at our heels it is high time to roll out the summer eats. As far as eating goes, there isn't much that we like better than the perennial Cobb Salad. Creamy avocados mix with breezy cucumbers, all spiked with blue cheese and doused in an herb vinaigrette. Please note that this recipe has been modified quite a bit from the traditional Cobb, but that is to highlight our scrumptious salmon jerky. Our Cobb Salad with Salmon Jerky is a leaner and healthier version of the American classic yet remains a stand-up salad. Vegetarians who include fish and eggs in their diet will love it!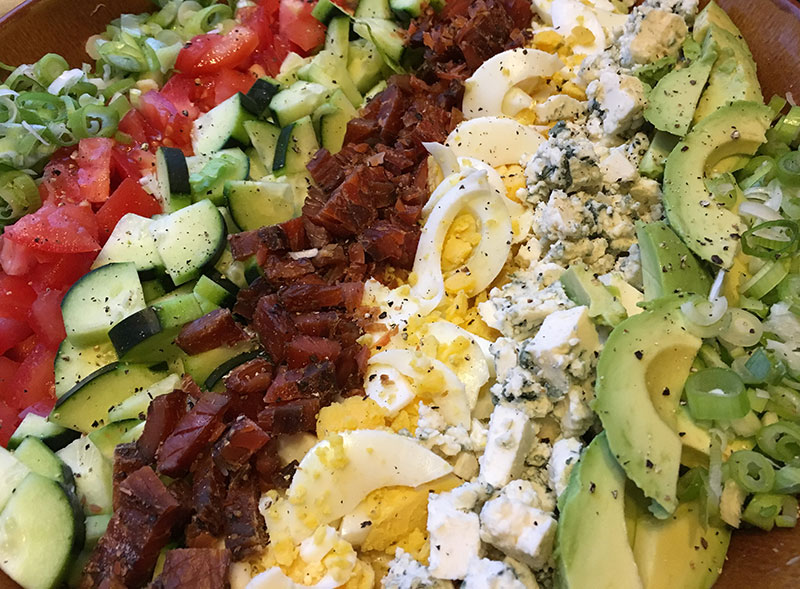 Cobb Salad Ingredients: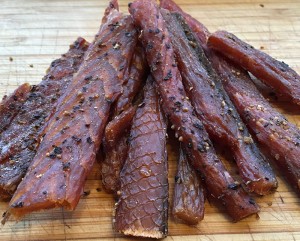 1 head Romaine lettuce, or butter lettuce, finely chopped
2 carrots, shredded
3 eggs, hard boiled and sliced
3 roma tomatoes, chopped
1 large avocado, sliced
1 small cucumber, chopped
3 scallions, thinly sliced
¾ cup Blue Cheese, crumbled
3 oz. Mountain America's Salmon Jerky (Original, Peppered or Teriyaki), chopped
Cobb Salad Dressing Ingredients:
1/3 cup white balsamic vinegar
1 small handful of cilantro
1 tsp dijon mustard
1 small clove of garlic
1 1/2 tsp honey
Zest of a quarter of a lemon
1 TBSP fresh lemon juice
Salt and pepper to taste
1/2 cup olive oil
Dressing Directions:
Using a blender, mix together the vinegar, cilantro, mustard, garlic, honey, lemon zest, lemon juice, and salt and pepper.
With the blender running, slowly add the oil in a steady stream.
Salad Directions:
Place eggs in a saucepan and completely cover with cold water. Bring to a boil for 2 minutes. Cover and remove from heat. Let eggs stand in hot water for at least 10 minutes. Remove from hot water, let cool, then peel and slice.
While eggs are cooking, make dressing.
Assemble the salad. Using a large bowl, place the lettuce first and top with shredded carrots. Arrange the remaining ingredients in even rows across the lettuce.
Serve, top with dressing, and enjoy!
Show up to your next BBQ or get-together with this salad and impress your friends and family. The Cobb Salad with Salmon Jerky is a salad that eats like a meal – and, an almost vegetarian cobb salad. There's plenty of protein to satisfy even the most hangry (hungry/angry) attendee and enough kicky zest to impress your foodie friend. Healthy fats are in abundance and who doesn't love that? Bob Cobb invented the first Cobb salad in 1930 and we think this version might just fetch his nod of approval.