Get your forks ready folks, have we got a recipe for you – a twice baked potato made with beef jerky and smoked cheese! Start with five large russet potatoes (which will make 4 potatoes); the bigger the better. Think brontosaurus egg-sized potatoes because you are going to want a burly base. This recipe includes traditional tasty ingredients: garlic, chives, and sour cream… then, best of all, we are going to blast these rustic potatoes up to a new level of gourmet with Mountain America's own Hickory Smoked Cheese, and the best topping of, our Original Beef Jerky.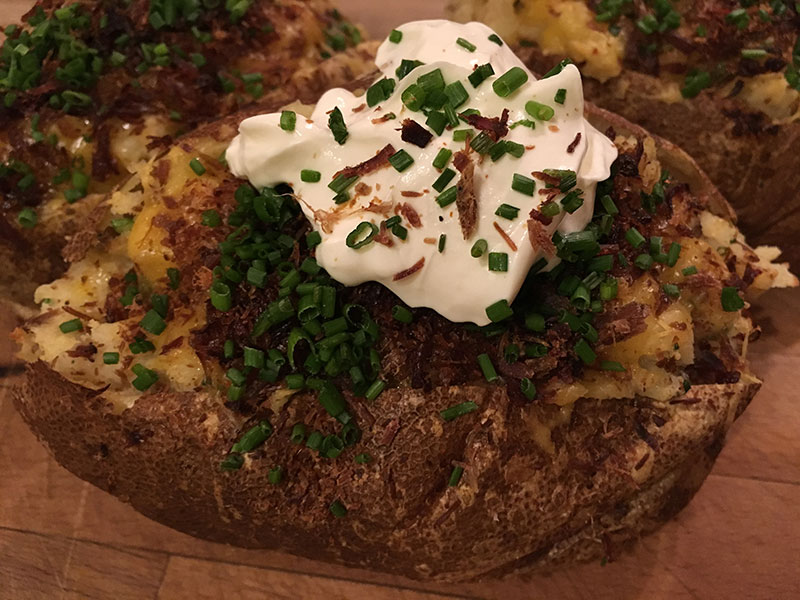 This loaded tator is a sight for sore eyes and hungry bellies. Here are the step-by-step instructions:
Twice Baked Potato Ingredients: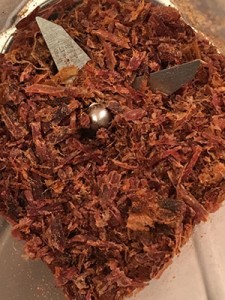 *A note on dicing jerky, this can be done with a sharp, sturdy dice or you can shred jerky in a food processor by pulsing it. A Vitamix blender can also be used starting on the low setting, dial up the speed control to about 5 or until desired consistency is reached.
Directions:
Heat oven to 375 degrees.
Wash potatoes by scrubbing with a vegetable brush. Pat potatoes dry. Using a fork, poke several holes in each potato.
Rub each potato with olive oil and sprinkle with salt.
Place potatoes directly on the oven rack (rack should be placed in the middle of the oven). Place a baking sheet on the rack below to catch any drippings.
Bake 50-60 minutes, until skin is crisp and potatoes feel soft when squeezed. Be careful, potatoes will be hot!
When cooled slightly, slice the top of the potato lengthwise. Carefully scoop out most of the potato flesh leaving 1/3 of an inch of flesh along the skin. With one of the potatoes, you will scoop the flesh entirely out and discard the skin.
Mash the potato flesh with the butter, garlic and ¼ cup milk until smooth. Add more milk to adjust to the desired consistency. Stir in 1 cup of the cheese, 2/3 of the jerky, and chives. Add salt and pepper to taste.
Spoon mashed potatoes back into skins and place in a 9"x13" baking dish.
Top each potato with the remaining cheese and jerky. Bake at 375 degrees until hot and the cheese is melted, approximately 15 minutes.
If desired, top with sour cream and additional chives.
Serve them up with an 8oz tenderloin, your favorite Cabernet and a few friends.
Dig in and enjoy!