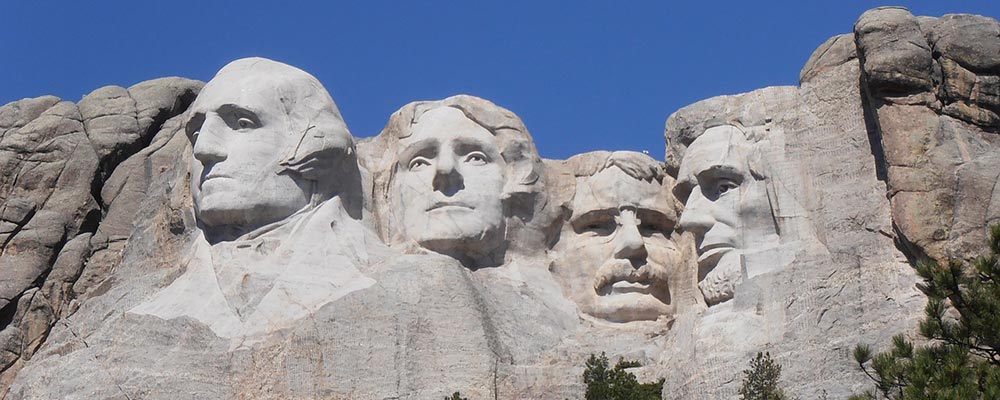 From George Washington to Barack Obama, this President's Day we ponder which jerkies the leaders of our country just might have gnawed on.
1. George Washington (1st) – Alligator

Our great nation's first leader led during the time that our capital city was being built literally out of an enormous swamp. We think this formidable leader would have heartily enjoyed a fist-full of Alligator Jerky, a healthy treat that keeps a man on his feet.
2. Thomas Jefferson (2nd) – Elk

One of our most distinguished and knowledgeable founding fathers, Thomas Jefferson knew a lot about a lot of stuff. It is not a great leap to suppose that this connoisseur would have enjoyed a side of Elk Jerky with his Burgundy, as elk is a multifaceted variety with depth of flavor and a sweet finish (that makes it wash down great with a fine glass of red).
3. Andrew Jackson (7th) – Original Salmon

If you look at a photo of Andrew Jackson at any point in his career, you will notice that he has the thickest, shiniest hair of any of our presidents, past or present. This leads us to believe that he may have kept his mane portrait-ready with a steady intake of Original Salmon Jerky, as salmon is high in hair and nail beautifying Omega 3 Fatty Acids.
4. Abraham Lincoln (16th) – Peppered Beef

The President that led the United States through its civil war shows a man as fierce as he was gaunt. We think he could fill those hollow frowning cheeks with a mouthful of Peppered Beef Jerky: high in protein, it is lean and delicious.
5. Theodore Roosevelt (25th) – Buffalo

Theodore Roosevelt was instrumental in the creation of our beloved National Parks, which makes us think of the first National Park, Yellowstone. We think he would have liked to eat some Buffalo Jerky in the very place "where the buffalo roam".
6. Woodrow Wilson (28th) – Ahi Tuna

Woodrow Wilson served our country during the Volstead Act, otherwise known as Prohibition. Having less beverage options, he would have chosen a mild jerky low in salt, such as an Ahi Tuna Jerky, which washes down nicely with a tall glass of water.
7. Herbert Hoover (31st) – Rainbow Trout

A mining engineer responsible for the Hoover Dam, this man must have spent a considerable amount of time next to and in America's rivers. I bet he'd appreciate a nice Rainbow Trout Jerky while thinking up his next great engineering feat.
8. George H.W. Bush (41st) – Habañero Beef

Proudly hailing from the Great State of Texas, we think the Bush family knows its way into a package of beef jerky. What you probably didn't know is that the H. in George H.W.'s middle name stands for Habañero, making Habañero Beef Jerky his favorite.
9. Bill Clinton (42nd) – Teriyaki Salmon

Bill Clinton, "the world's most famous vegan", sometimes cheats on his diet by eating fish and other lean protein in order to maintain iron, zinc and muscle mass. We think he'd enjoy our Teriyaki Salmon Jerky on his next "cheat day".
10. Barack Obama (44th) – Smoked Rattlesnake

A little known fun fact about President Barack Obama is that he ate dog meat, snake meat, and roasted grasshopper while living in Indonesia. For this reason, we'd offer this adventurous President some of our Smoked Rattlesnake if given the chance.
Silly as it may sound, we've got a jerky that's just right for every one of our country's esteemed leaders. Have a safe and happy President's Day and check out our 40+ jerky flavors next time you have a hankering for a presidential quality snack. I'm sure there's one that's just right for you too.