We know that our jerky is hot, but do you know just how hot? Here is a list of our five top selling spicy jerky products for 2015 and why folks love them.
#1 – Sweet & Spicy Beef Jerky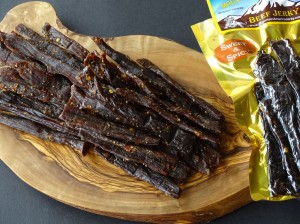 What's better than Sweet and Spicy Beef Jerky? Voted the #1 pick by Men's Health magazine, healthy men must know what they are talking about. Our beef comes from grass-fed Colorado cows and is hand cut in thick strips. Our spicy three pepper marinade is evened out by sweet brown sugar, giving this jerky kick and a surprising depth of flavor.



#2 – Spicy Elk Jerky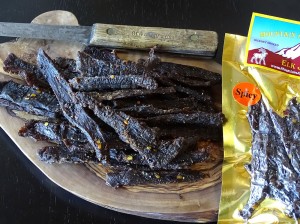 Spicy Elk Jerky comes in a close second to Top Spicy Jerkys. Elk is considered a super lean red meat, high in protein and iron; it has a mild, almost sweet taste. The flavor of elk pairs well with our spicy jerky marinade. We combine cracked black pepper and red pepper flakes into our own special jerky marinade. Our elk is all-natural, never treated with growth hormones or steroids, which make this a real quality product.



#3 – Spicy Buffalo Jerky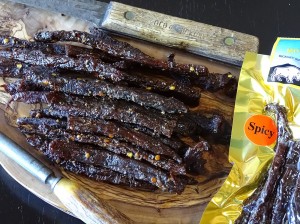 Buffalo is so high in protein, but low in cholesterol and fat, that it is endorsed by the American Heart Association. When you combine high quality buffalo meat with peppery spices and hickory smoke, we endorse that as delicious!



#4 – Spicy Beef Jerky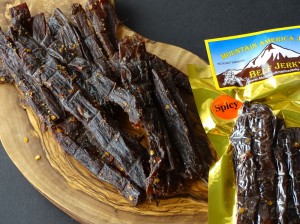 Spicy Beef Jerky isn't anything new to the jerky world, but ours is different. We keep out the nitrates, the meat fillers, and the MSG – and we give you a less salty, more flavorful jerky. We make our jerky by hand in small batches and smoke it daily in our Colorado smoke house. You may have heard the term farm-to-table, well, our jerkys don't usually make it to the table, it's more of a farm-to-mouth system.



#5 – Spicy Turkey Jerky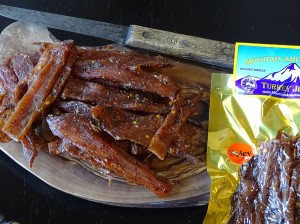 If you are steering clear of red meat but still like the spice, we've got Spicy Turkey Jerky for you. Our turkey jerky is made from thick cut turkey breast giving you the leanest cut and the most delicious jerky.




If you are looking for spicy, look to our website. You can easily find all our spicy jerkys in the 'flavors' section of our sidebar menu. These spicy jerkys are awesome on their own, or fun to try in different jerky recipes. Keep checking back for new recipes!