As we work our way into the last vestiges of fall, we look forward to a time-honored American tradition, that of gathering with our loved ones and stuffing ourselves to the brim with hearty, home-cooked meals. As with any Thanksgiving celebration, we look forward to the staples: roasted turkey, mashed potatoes, and of course gallon of unctuous gravy, with which we drown our plates with gusto. In most families, of course, there is also the obligatory oddity dish (in ours it was called "pink stuff" and was a concoction of cottage cheese, Jello mix, and pineapple).
However, adding a new dish each year can be a great way to take the tradition up a level and dazzle your crowd with the unexpected. Try our Brussels sprouts with wild boar jerky and await the accolades of your kith and kin. These aren't the limp, boiled sprouts of Thanksgiving nightmares, these spicy little numbers are crispy, smoky, and, at our table, rarely make it to the left-over round.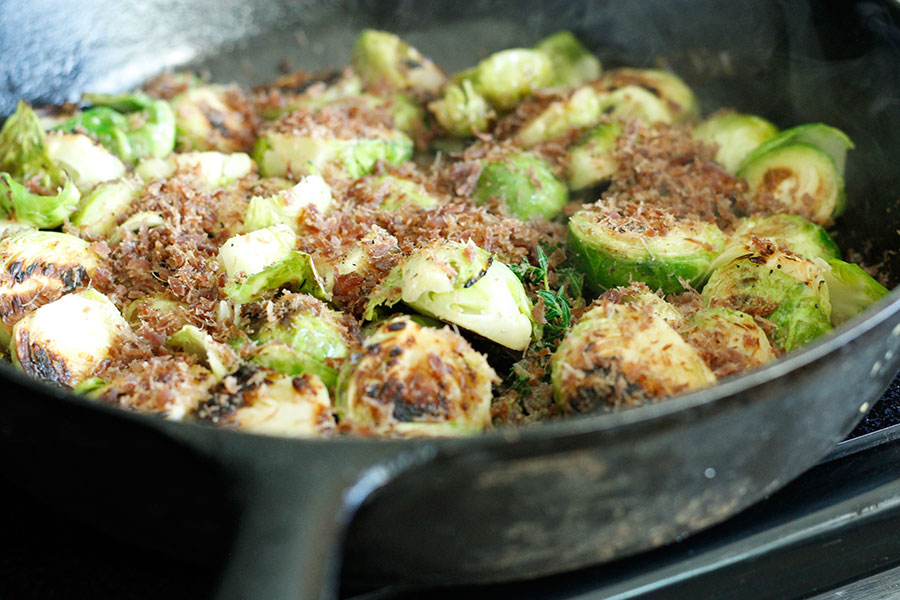 Ingredients: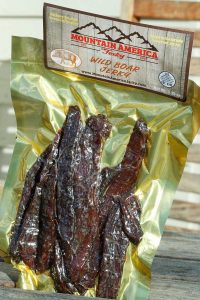 ½ pound package Brussels sprouts
1 – 1.75 oz package Mountain America Wild Boar Jerky, shredded (how to shred)
4 Tbsp. unsalted butter
1 tsp. minced garlic
½ c. white wine
½ tbsp. champagne vinegar
3 sprigs fresh thyme
1 tsp. salt
pepper to taste
Directions:
Preheat oven to 400°F.
Cut ends off of the Brussels sprouts and discard, cut sprouts in half lengthwise.
Set a cast iron pan over medium high heat, add butter and cook sprouts cut-side down until golden brown. Add garlic and cook for 20 seconds, until fragrant.
Add the shredded Wild Boar Jerky, white wine, thyme and champagne vinegar. Deglaze the pan until it's nearly dry, but not quite.
Add salt and pepper to taste.
If the sprouts need a little more cooking time, add to the oven for 5-10 minutes, until tender.
Serves: 4-6 as a side