The Tibetan yak is a high-altitude bovine that is native to the Himalayas and other regions of Central Asia. Known for their handlebar horns and tough, long hair – which is used to make high-quality woolen textiles – yaks have a rich history in Tibetan culture as a source of transportation, clothing, fuel and food. Domesticated by Qiang herdsmen around 10,000 years ago, yaks are exceptional pack animals. With three times the lung capacity of their cow cousins, these exceptional pack animals dubbed the "boats of the plateau" have been carrying loads of up to 150 pounds across the grasslands of the Tibetan Plateau for centuries.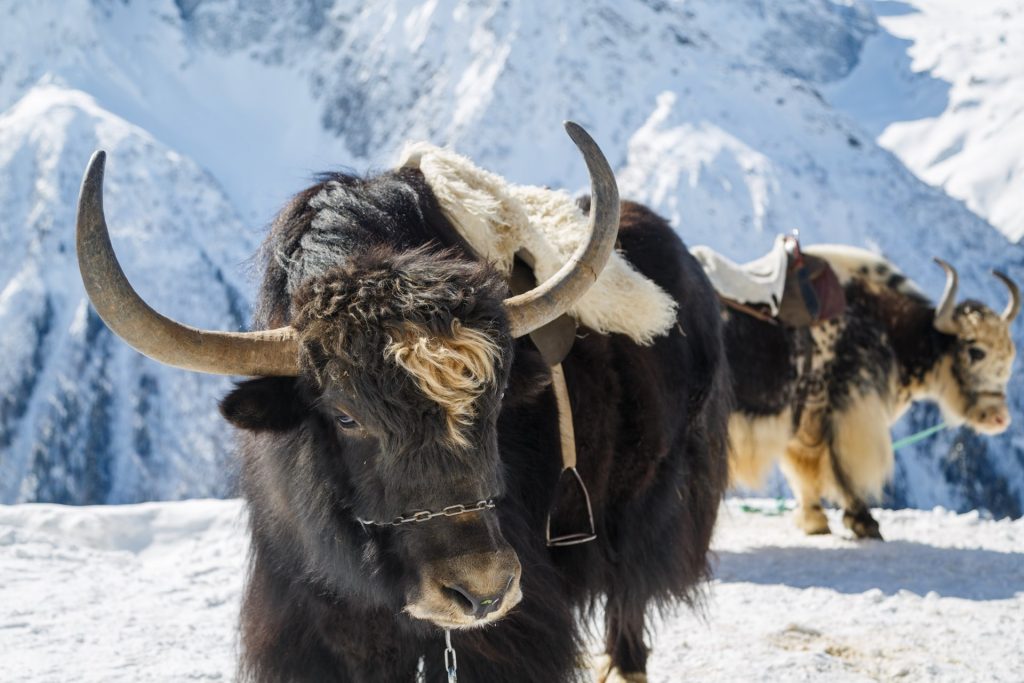 Tibetan yaks are well adapted to the harsh and extreme weather conditions of their native high-altitude region, subsiding on a meager diet of native sedges and grasses, and have been an invaluable source of meat, milk, butter and cheese for Tibetan people for generations.
Tibetan Yak Meat Traditional Uses
Lean and high in protein, yak meat is a staple food source for many Tibetans and has historically been an excellent source of nutrition for people living in remote areas with limited access to other types of meat. Yak meat is prepared in a variety of ways in Tibetan cuisine, though it is often stewed with vegetables, herbs and spices, or sliced thinly and served raw as a type of carpaccio. Yak butter is used in many dishes, including tea, soups and stews.
Traditionally made during Losar (the Tibetan New Year), guthuk is a nine-ingredient stew filled with yak meat, cheese, vegetable and meat-stuffed dough balls and is seen as a hopeful symbol of a fruitful new year. Guthuk contains symbolic ingredients meant to speak to the qualities of whoever consumes it – with some dough balls containing too much salt or pepper, beans and even bits of paper, wool and coal dust. Chose a dough ball that's salty? You're lazy. Peppery? You have a sharp tongue but a soft heart. If you find some paper in your dough ball, you're gullible; beans, you're bad at making decisions; wool, you have a good heart.
Today, yak meat is considered a delicacy in other parts of the world and Tibetan yak jerky is a popular snack for outdoor enthusiasts across the world.
Yak Jerky: A Healthy Exotic Meat Jerky
Jerky is a type of dried meat that has been a popular food for centuries in the Americas and throughout the world, especially among hunters and travelers who needed a long-lasting source of protein. The history of using yak meat for jerky can be traced back to the nomadic tribes of Tibet and Mongolia, who relied on the preserved meat for sustenance during long journeys. Yak jerky has a long history in Tibetan culture, where it was traditionally made by drying thin strips of meat in the sun or over a fire. The resulting jerky was a portable, high-protein snack that could be taken on long treks across the Tibetan Plateau or stored for later use.
In recent years, Tibetan yak jerky has gained popularity in the United States as a healthy alternative to traditional beef jerky because it is a low-fat, low-calorie snack that is high in protein and omega-3 fatty acids, and rich in flavor. Yak jerky is also popular in Europe, where it is often sold as a gourmet food item.
The process of making yak jerky has evolved over time. Today, commercial producers typically marinate yak meat in a blend of herbs and spices before drying it in a dehydrator or oven to make this exotic jerky. This process removes most of the moisture from the meat, making it shelf-stable and resistant to spoilage. Smaller, gourmet exotic meat jerky producers take a more traditional approach, slowly hickory-smoking the yak meat to infuse more flavor into the meat while retaining its moist, chewy texture for a superior Tibetan yak jerky.