Thanksgiving is right around the corner and we couldn't be more excited to turn on the Macy's Day Parade, get the turkey in the oven and start whipping up our favorite appetizers and Thanksgiving sides with our favorite people.
After all the plates are scraped clean and the pumpkin pie and apple crisps are long gone; once the dishes are washed and the football game is on, the last thing on your mind is more food. The next morning, however, is a completely different story.
One of the best parts of Thanksgiving? The leftovers. Keep reading for some creative ideas for Thanksgiving leftovers.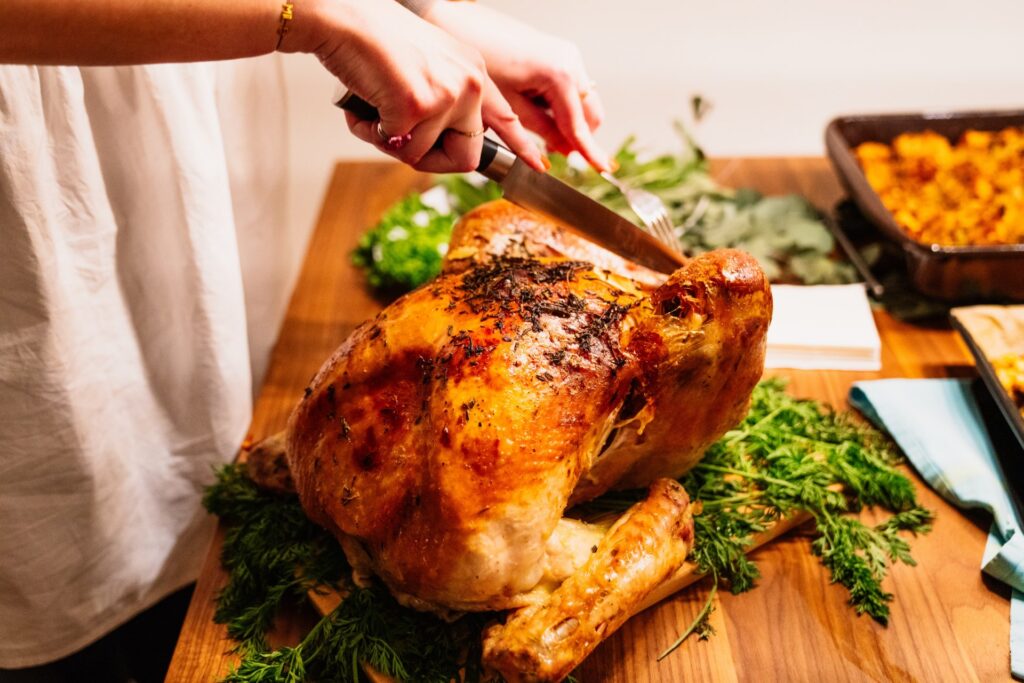 Unique Thanksgiving Leftover Recipes
Grilled Turkey & Cheese Sliders
The classic Thanksgiving leftover sandwich is just that – a classic. While we don't mean to mess with perfection, let us offer up a hot new take: the grilled turkey and cheese slider.
Simple yet delicious, these sliders are what you get when you cross a grilled cheese sandwich with Thanksgiving leftovers.
First, warm some smaller slices of leftover turkey in a frying pan (nonstick or cast iron – whichever your preference) on medium heat. Set that aside and cover to keep warm. Cut a couple of leftover dinner rolls in half and butter the tops and bottoms. Slice some hickory-smoked cheddar, pepperjack, asiago or habanero cheese and put a slice on each half of your buttered dinner rolls.
Add the rolls (top-down) to the pan and cover to let the cheese melt a bit. Then, add your turkey and any of your favorite Thanksgiving leftover sandwich toppings and combine the halves to make little sliders. Cook until the rolls are nicely browned and the cheese is melted.
Biscuits, Turkey & Jerky Gravy with Fried Eggs
Looking for a new Thanksgiving leftover breakfast? Look no further. A twist on the Southern biscuits and sausage gravy with fried eggs breakfast, this Thanksgiving leftover idea is sure to please.
The recipe is simple. Instead of the traditional sausage gravy, mix things up by adding peppered beef jerky and chunks of leftover turkey to your gravy. The peppered jerky will add some kick and texture, and the Thanksgiving turkey will pull in those great roasted herbs and spices.
Oh – and if you don't feel like making biscuits after all that cooking: sub leftover dinner rolls toasted in the oven.
Thanksgiving Leftover Casserole – with Jerky
Most families have their own version of Thanksgiving leftover casserole. Whether it's a traditional mix of stuffing, turkey and cranberry sauce, or a veg-heavy dish that makes use of all the leftover green beans, Brussel sprouts and sweet potatoes, these casseroles are a Thanksgiving leftover staple.
One easy way to give your casserole a new life – and a new flavor profile – is to add jerky into the mix. Chop up some chewy, hickory-smoked jerky and add it to your family recipe for an extra kick. Beef, venison, elk, buffalo; spicy, peppered, garlic, habanero – the sky's the limit when it comes to quality jerky.
Jerkify Your Thanksgiving Sides
If you're tired of eating the same old leftover Thanksgiving sides – stuffing, mashed potatoes, green bean casserole, Brussel sprouts and the like – and aren't a big fan of Thanksgiving leftover casserole, it might be time to spice things up! And while you might not find "jerkify" in the Merriam-Webster dictionary, it's our new favorite verb.
So, what does it mean to jerkify your Thanksgiving sides? It means exactly what it sounds like! Add your favorite jerky to any Thanksgiving leftover and you have a brand-new dish without a ton of effort.
Make Your Own Thanksgiving Turkey Jerky
Finally, want to try your hand at making your own turkey jerky? Here's a turkey jerky recipe to get you started. If you prefer to sit back, relax and leave the jerky making to the pros, don't worry – we've got you covered.