Picture a cozy evening around a warm campfire. As the stars twinkle above, you pass around a bag of Sweet and Spicy Beef Jerky. Your friends can't get enough, and neither can you. Before you know it, the bag is emptier than a Florida beach after shark week.
That, my friend, is the magic of sweet and spicy beef jerky – a flavor combination that has captured hearts and taste buds worldwide.
Sure, there are a lot of beef jerky flavors out there. But something about the balance of sweetness and heat tends to spark a delighted frenzy whenever it's around.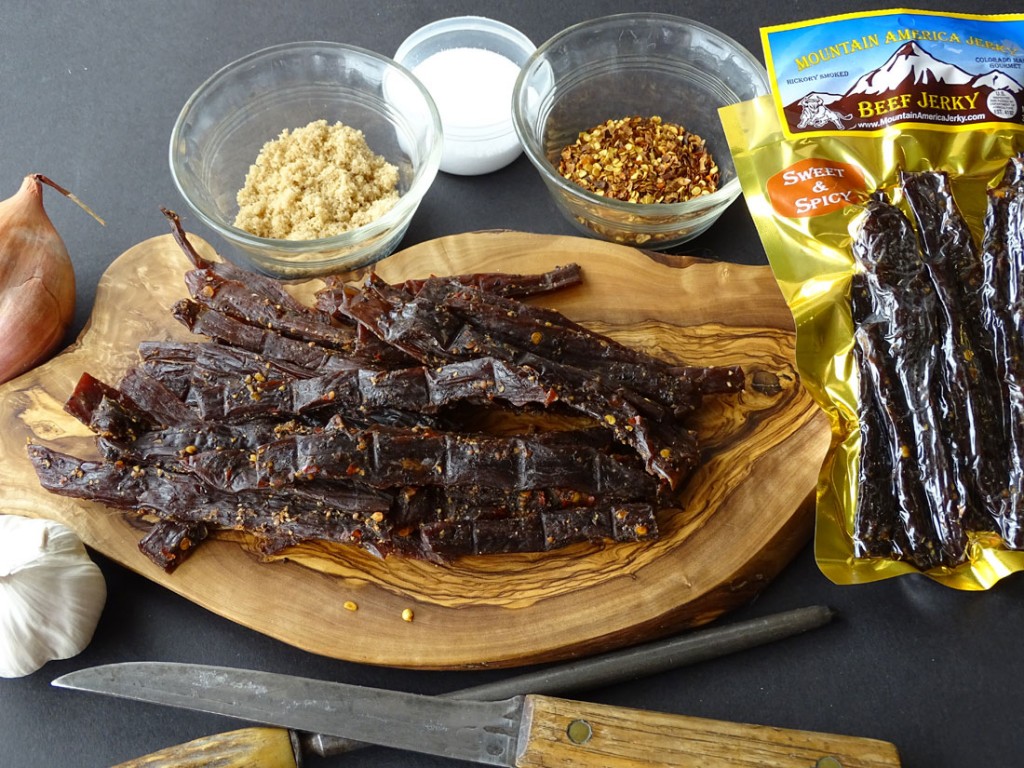 The Sweet and Spicy Jerky Craze: Why the Love Affair?
We humans have always enjoyed a full sensory experience when food is involved. It's one of the reasons we go out of our way to eat meals and snacks that smell and taste and look as delicious as possible. A feast of the senses isn't just a saying. In homes and restaurants around the world, it's a way of life.
You may, however, be surprised to learn the sweet and spicy craze is nothing new.
The concept of pairing sweet and spicy flavors dates back centuries. Ancient civilizations, like the Aztecs and Mayans, used cacao mixed with chili peppers, cornmeal and sometimes honey or cinnamon to create a hot and sweet beverage. You can still find variations of it to this very day. (Ever tried a Mexican mocha? Talk about a historical flavor trend.)
But as we dive headfirst into the delicious details of sweet and spicy beef jerky, let's ponder for a moment why this combo is so dang popular. Why do people go gaga over sweet and spicy flavors doing the samba on their taste buds?
The Sweetness Factor
Let's start with the sweet side of the equation. The sweet component in beef jerky typically comes from the use of different types of sugars like brown sugar, maple syrup, molasses or honey. Consider it a gentle caress for your taste buds, providing a delightful contrast to the savory beef flavor. It's a comforting, familiar touch of sweetness that keeps you coming back for more.
And then there's the spicy side of things…
Bring on the Heat
When spiciness shows up at the party, it's hard not to miss. Often, it enters the jerky scene through ingredients like cayenne pepper, chili powder or red pepper flakes. These peppers and spices bring layers of heat that add an invigorating kick. And, let's face it, the effect is a little addictive. Just try to defy the urge for another piece with your senses in the firm grip of that sweet and spicy jerky bliss.
The Dance of Flavors
The beauty of sweet and spicy beef jerky comes down to how these two flavors tango together on your palate. It's a true harmonious dance of contrasts.
As mentioned in our last installment, heat from capsaicin, the compound that makes chiles hot, binds to pain receptors in your mouth causing the heat receptors in your body to activate. This is the fiery reaction you feel on your lips and tongue as you start to sweat and tear up.
Most people can tolerate the heat. Some come to find it's not their jam. But there are those who can't get enough of it, affectionately known as Chileheads. This subculture of adventurous souls goes out of their way to experience chile heat at its highest levels.
In contrast, the sweetness in sugar (or sucrose) decreases the intensity and duration of the endorphin-inducing burn. For many, this can be a welcome relief. Still, the result of this pairing is pure flavor alchemy. Because the sweetness doesn't just tame the spiciness; it complements it, creating a delightful balance that's hard to resist.
Over time, sweet and spicy flavors have made their way into cuisines worldwide. Think about classics like General Tso's Chicken in Chinese cuisine, or the iconic Nashville Hot Chicken, a spicy, sweet masterpiece of Southern cooking. And let's not forget about Thai curries full of chiles, pineapple and coconut milk. Or the world of fresh and zesty mango salsa. Mercy!
Sweet and spicy is simply that perfect balance of flavors found in cuisines all around the world for centuries.
Sweet and Spicy Jerky… and Beyond
We've explored why sweet and spicy are the ultimate culinary power couple and how this flavor combo has been successfully passed down through the ages. Now let's talk about how it works its magic on our different varieties of sweet and spicy jerky – because it's not always just about the classic beef. (Sorry cows!) We have two unique options to help you discover what all the sweet and spicy fuss is about!
Sweet and Spicy Elk Jerky
Elk meat brings a deliciously distinct character to the sweet and spicy party. When its lean, rich flavor is paired with our signature sweet and spicy seasoning – watch out! It's like taking your taste buds on an adventure through the untamed wilderness. We add just a whisper of brown sugar to our savory thick-cut, Sweet and Spicy Elk Jerky. This light sweetness is the perfect compliment to the hickory smoke and fiery pepper blend. Eat your heart out, Indiana Jones.
Free Range Grass-Fed Sweet and Spicy Beef Jerky: A Wholesome Delight
For those who prefer a more conscious snacking experience, Mountain America's Free Range Grass-Fed Beef Jerky is a delightful choice. Made from cows never confined to a feedlot, the meat's natural flavors shine through, enhanced further by the sweet and spicy fusion. It's a wholesome jerky that lets you savor the goodness of nature with every bite.
The Irresistible Appeal
In the grand tapestry of culinary experiences, sweet and spicy beef jerky has firmly secured its place as an irresistible indulgence. It's the kind of snack that adds excitement to those mundane moments, elevates your outdoor adventures and sparks conversations around campfires.
So, whether you're a seasoned sweet and spicy aficionado or just taking a curious peek into this timeless, flavorful love story, maybe it's time to embark on your very own jerky journey. Dive into the world of sweet and spicy jerky, and let your taste buds revel in the delectable dance of flavors. You never know; you might just find your new snack-time soulmate.
If you love what you've read, please share it with all the jerky fans you know! Also, please feel free to comment and let us know how we're doing. We love to read your responses to our posts.