If you're a fan of quality snacking and haven't tried Mountain America's Spicy Beef Jerky yet, you're missing out! It's one of our most popular flavors of jerky and for good reasons.
Today we're going to delve into the world of spicy jerky and why it's so popular. We'll also dive into the benefits of spicy food and why chiles are such a perfect complement to jerky's rich, savory flavor. Let's get into it!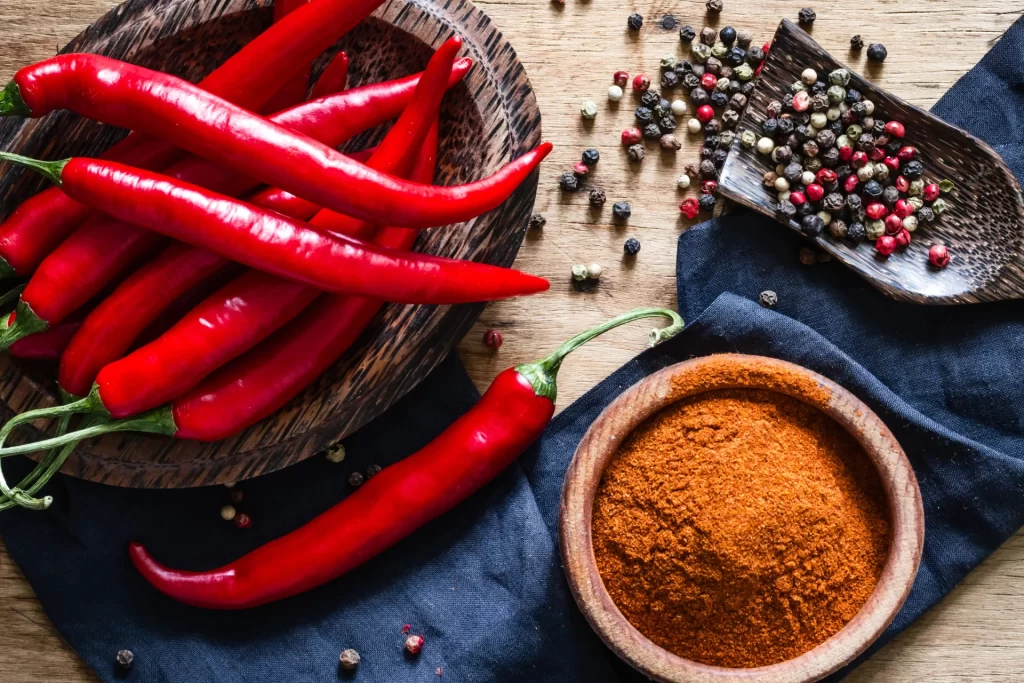 What's so special about spicy beef jerky anyway?
In the long history of jerky, the spicy variety is relatively new on the scene. Spicy jerky combines the savory goodness of lean cuts of meat with chile peppers ranging in potency from a mild smolder to a fiery kick — and beyond.
If you're not a big spice-lover, you might be wondering why you'd even consider trying spicy beef jerky in the first place. It's true that there are plenty of tried-and-true jerky flavors out there that won't make you sweat. So, why rock the boat?
It's a great question. After all, jerky's not a one-flavor-fits-all sport. And if you're not used to any heat at all, we recommend starting with our Peppered Jerky varieties before working your way up to the jerkies with more zip. But if you're feeling adventurous about what the spicy side of life has to offer and ready to let your curiosity lead the way, well then, please read on.
Is spicy food good for you?
Many cultures around the world have eaten spicy food for thousands of years. It's often eaten in warmer climates like Southeast Asia, India and the Caribbean where people use it to help keep cool. Sounds counterintuitive, right? But it's actually pretty smart. (We'll explain that one in a bit.) And thanks to social and societal globalization, it's easier than ever to try hotter cuisines that were previously out of mainstream America's culinary reach.
But the question remains, is spice good for you?
The answer – You better believe it is!
Let's start with the magic of capsaicin, the chemical compound that gives peppers their kick. It's found inside the pepper's veins (or placenta) and sometimes pooled at the bottom of super-hot chiles. And contrary to what many people think, the heat is not in the seeds. It's ON them.
Capsaicin has an interesting effect on the taste buds. That burning sensation you feel is sending signals to the brain and nervous system that the body is overheating. In response, your body turns on its cooling mechanisms: dilated blood vessels, sweating and a runny nose.
Regarding health benefits, capsaicin has been shown to help with weight loss by boosting metabolism. It has also been shown to act as an endorphin relieving pain, stress and depression by causing a feeling of euphoria — similar to what's known as a "runner's high." Capsaicin has also been found to help with heart disease by reducing LDL cholesterol levels.
On top of that, chile peppers pack 240% of the recommended daily allowance of Vitamin C! They also contain antioxidants and flavonoids that help the body repair itself and fight off free radicals known to cause cancer.
Fun fact: black pepper, as spicy as some may find it, has zero capsaicin. Instead, it contains piperine which has a similar effect on the taste buds with less perceived heat.
The Perfect Blend
At Mountain America Jerky, we take pride in sourcing the finest meats and spices to create truly exceptional jerky. You won't find any shortcuts here; it's all about crafting the perfect blend of flavors and textures. So why would we stop when it comes to our spicy jerky blend?
Our mix of black pepper, crushed red pepper and cayenne covers the gamut of flavor and heat for the ultimate Spicy Beef Jerky experience.
We start with coarse black pepper for an upfront tingle to get the ball rolling. Then we follow it with just the right amount of crushed red pepper – a seasoning that elevates everything it touches. In our Spicy Beef Jerky, crushed red pepper is not just a spice; it's a flavor enhancer. Those little flakes add a bright, slightly tangy dimension to the jerky, making each bite a sensory adventure. And let's not forget about the irresistible heat!
To finish this spicy trio, we add the gorgeous heat and smolder of cayenne pepper. This little red powerhouse is responsible for that unmistakable spicy kick. But it's not just about the heat; cayenne pepper adds depth and complexity to the jerky's flavor profile. Imagine a burst of smoky, earthy and slightly sweet notes mingling with the rich beefiness of our hickory-smoked jerky.
Exploring the Spicy Jerky Universe
So far, we've been talking mainly about our Spicy Beef Jerky, but Mountain America has a lot more to offer in the spicy jerky department. Have you ever tried Spicy Elk Jerky, Spicy Turkey Jerky, or Spicy Buffalo Jerky? These exotic twists on the classic jerky offer a whole new snacking experience.
Our Spicy Elk Jerky and Spicy Buffalo Jerky are lean, tender and packed with protein. Flavor-wise, either is a perfect first step from beef to more wild game. So, whether you're an adventurer at heart or just someone looking to switch up your snack routine, these jerkies deserve a spot on your must-try list.
If you're watching your calorie intake but still want a fiery snack, our Spicy Turkey Jerky is your go-to option. It has less fat and is lower in calories than beef but doesn't skimp on the flavor. The blend of spices and hickory-smoked turkey meat creates a snack that's bold, satisfying and healthy.
When Spicy Simply Isn't Hot Enough
It's been over ten years since the habanero pepper lost its title as "the hottest in the world" to the haunting heat of the ghost pepper. But make no mistake, it still packs a fiery punch that can make even the most stoic snacker break a sweat.
As well as being blisteringly hot, habaneros bring a fruity citrus and slightly floral flavor that's surprisingly refreshing. These brighter notes seamlessly complement the savory, smoked flavors in our Habanero Beef Jerky and Habanero Buffalo Jerky. So, if you're looking to turn up the heat on an already incredible jerky experience, you're going to want to give these two a try.
To Spice or Not to Spice
Whether you're a fan of all things spicy or are perfectly happy with your current jerky favorites, Mountain America Jerky is the ideal on-the-go snack.
If you are you ready to elevate your snacking game and embrace the bold world of Spicy Beef Jerky, don't let your taste buds miss out on the adventure. Head over to Mountain America Jerky and explore our tantalizing selection of Peppered Jerky, Spicy Beef Jerky, Spicy Elk Jerky, Spicy Buffalo Jerky, Spicy Turkey Jerky, Habanero Beef Jerky, and Habanero Buffalo Jerky.
Why settle for bland, ordinary snacks when you can savor the thrilling combination of heat and savory goodness? The world of spicy jerky is calling your name.
Will you answer the call?
If you found this information helpful, interesting or enlightening, please feel free to share it with friends, family and fellow jerky lovers everywhere.