Adventuring in the mountains can be an absolutely magical experience. Whether you prefer hiking, biking, trail running, backpacking or all of the above, connecting with nature while you challenge yourself both physically and mentally is one of the many pleasures of living in or near the mountains. To make the most of your time in the great outdoors, however, it's crucial to stay properly fueled and hydrated, and always plan for the unexpected.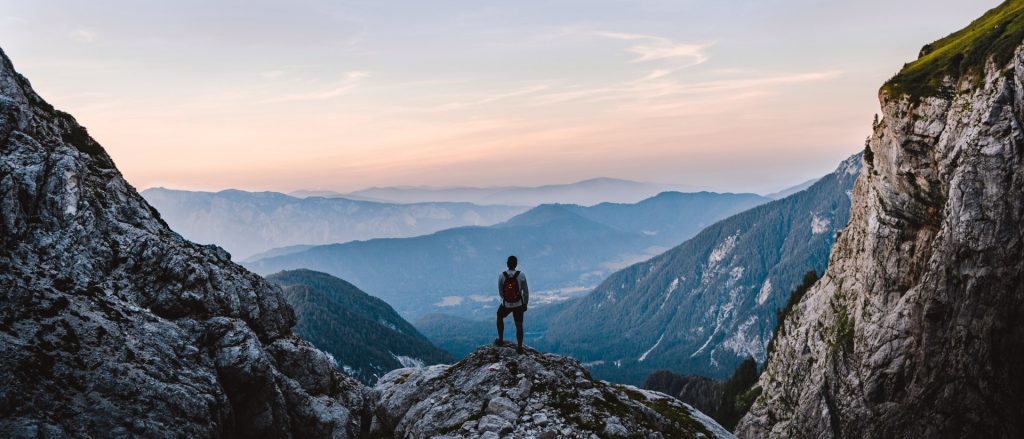 Plan Your Nutrition in Advance with Dehydrated Camping Food and Basic Backpacking Food
Before embarking on any outdoor adventure, planning your meals and snacks is just as important as figuring out where you're going and how to get there. If you're going to be gone for more than a few hours, bringing a high-protein hiking food like beef jerky, apples with nut butter or even a simple protein bar can be the difference between a fun afternoon in the mountains and an outing ruined by hunger pains.
If you're spending one or more nights in the mountains, backpacking food is a must. Pre-plan a meal schedule that includes a balance of carbohydrates, protein, and healthy fats and opt for lightweight, nutritious, and easy-to-carry camping food like granola bars, nuts, dried fruits, jerky, and energy gels.
Fueling on the Water
If you're kayaking, canoeing or river rafting, you may not have the luxury of stopping to eat and even easy camping foods might be too much of a hassle to eat. In such cases, opt for snacks that are easy to consume on the go, like meat snack sticks, energy gels, fruit chews or easy-to-access nuts and dried fruits. This way, you can maintain your energy levels without disrupting your flow on the water.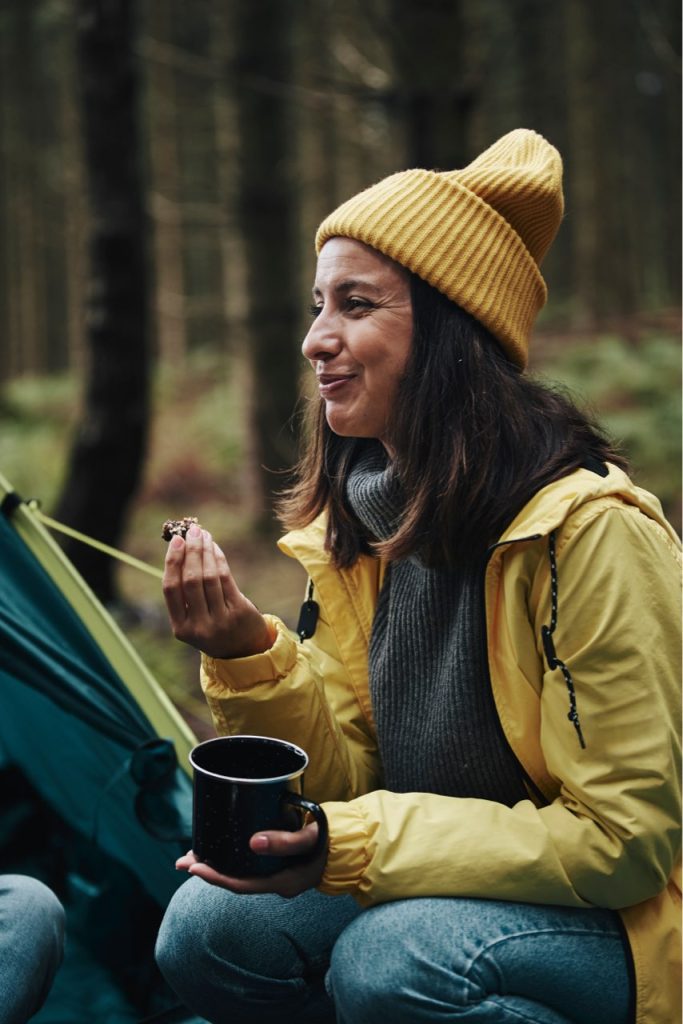 Mindful Eating
When you do have the opportunity to stop for a snack or a meal, take a moment to enjoy the experience fully. Mindful eating not only helps you savor the flavors but also helps keep you from overeating. Stomach cramps and bathroom emergencies are no fun when you're miles from the trailhead – slowing down your eating allows you to recognize when you're full and helps your body to better digest the food. So, take a seat, relax and appreciate the nourishment you're providing to your body.
Stay Hydrated
Proper hydration is vital during any outdoor adventure, particularly in the hot summer months. Dehydration can not only lead to reduced performance and fatigue, but it can also cause more severe health issues such as heat stroke, cognitive impairment, kidney problems, seizures, and even comas and death if taken to the extremes. This is why it's so important to always carry a reliable water bottle or hydration reservoir and aim to drink small sips of water frequently, rather than waiting until you're extremely thirsty. Adding electrolytes to your water or carrying a separate electrolyte drink is also helpful on longer, hotter journeys.
Know Your Water Sources
When hiking or backpacking, familiarize yourself with the availability of water sources along your route. Plan your refill points and carry an appropriate water purification method – such as water filters or purifying tablets – to ensure access to clean water from streams and lakes. Beware of algae blooms in the hot summer months and know what to look for to keep you – and any four-legged companion – safe from such contaminants.
Avoid Excessive Caffeine and Alcohol
While a cup of coffee or tea can provide a temporary energy boost, consuming excessive caffeine can help speed up dehydration. Similarly, alcohol can impair your judgment and hydration levels. So, no matter if you're on a short hike or a multi-day backpacking trip, it's important to limit your intake of caffeine and alcohol during outdoor activities to stay focused, alert and hydrated.
Most Importantly, Listen to Your Body
Every outdoor adventurer's nutritional and hydration needs differ, so it's essential to listen to your body and adjust your fueling strategy accordingly. If you feel hungry or fatigued, take a moment to refuel and drink some water. Ignoring your body's signals can lead to decreased performance and may even compromise your safety.
By planning your nutrition in advance, embracing high-energy snacks like jerky and dried fruit, staying hydrated and being mindful of your body's signals, you can ensure you'll have the energy and stamina to make the most of your hiking, backpacking, kayaking or other wilderness adventure. As always, don't forget to respect the natural habitat around you, leave no trace, and enjoy the journey. Happy adventures!