Smoked meat, which includes jerky, has never been more popular. Beef jerky has been a favorite snack for centuries – though the bragging rights for who originally created it are still historically up for grabs. Once a practice done purely out of necessity, it's now accessible to anyone with the wherewithal to try. But that doesn't make smoking jerky an easy endeavor by any means.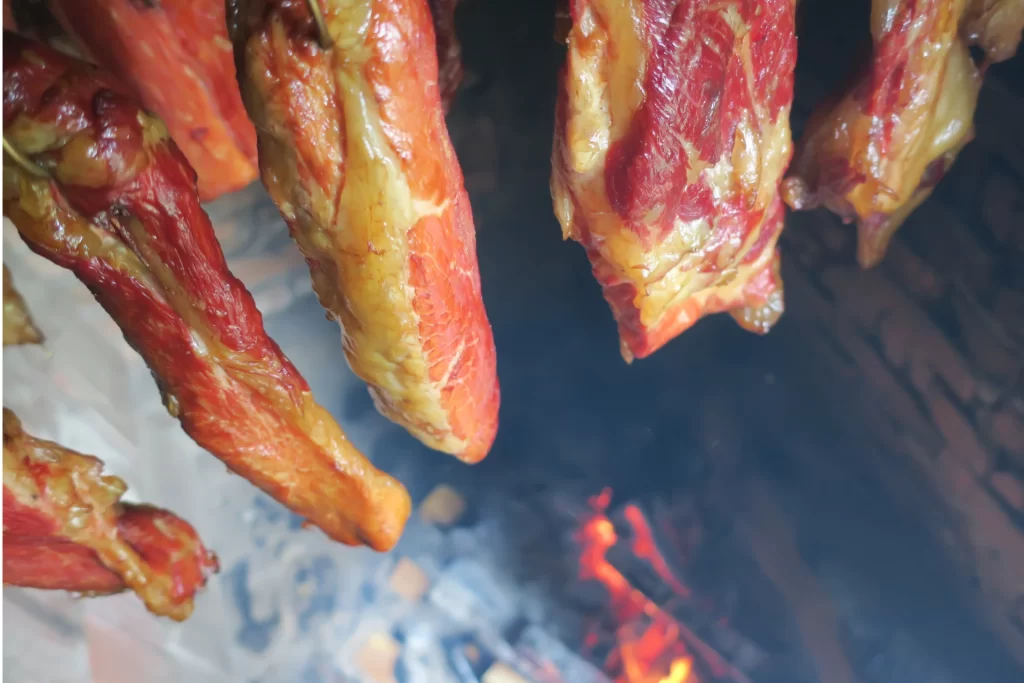 The main idea is to expose cuts of meat to the smoke of specific types of wood (e.g. fruit and hardwood) and the wood smoke then imparts its flavors to said meat. Different woods (and sometimes organic matter like peat) are used depending on the desired flavor or how it compliments the meat or fish being smoked. Hickory, in particular, is a hardwood that brings a unique, bold and faintly bacon-like flavor to the table.
The result? Smoked jerky that's nothing short of a culinary masterpiece.
A Brief Look at the Origins of Smoking Meat
Before we delve further into the mouth-watering world of smoked beef jerky, let's take a quick trip back to discover where the idea started in the first place. And this time we need to go way back.
Prehistoric Roots
Smoking meat as a preservation technique dates back thousands of years to the Paleolithic Era. That's roughly 2.5 million to 12,000 years ago. Wow!
Our ancestors quickly realized that smoking not only helped preserve meat (aided with the addition of curing by adding salt) but also made it more flavorful and visually appealing. That's right. As a bonus, the process of smoking gives the meat a deep reddish-brown appearance that gets the taste buds revved up and ready to go.
Back in the early days, people used whatever wood was available with a lot of trial and error. Over time, hickory, as well as mesquite, became popular choices for smoking meat.
Native American Traditions
Native American tribes in North America had a long history of smoking meat. They used various types of wood for smoking, including hickory and oak, to enhance the flavor of their buffalo, deer or elk. This tradition was a precursor to the delicious smoked jerky we enjoy today
Hickory: The (Not So) Secret Ingredient
There are a handful of methods for drying meat to create delicious jerky, such as smoking, sun-drying, oven-drying and using a dehydrator or a microwave. And while they all produce their own tasty results, the other methods are missing the dynamic extra dimension that smoke brings to life.
And for many in the smoking world, the not-so-secret ingredient wood of choice is hickory.
But why? What makes hickory so special?
Well, the science of it revolves around the compounds that hickory wood releases during the smoking process. The lignin in hickory wood breaks down into a medley of compounds, including guaiacol and syringol, which impart that distinctive smoky flavor. These compounds meld with the meat, creating a succulent blend of flavor that tends to tantalize the taste buds relentlessly. So really, it all comes down to the taste.
Hickory is like the rockstar of the wood world when it comes to smoking meat. Its distinct flavor profile is a delightfully rich combination of sweet and savory. This is a wood known for producing a clean, smoldering smoke, making it the perfect partner for transforming plain old beef jerky into a modern-day delicacy. And is an integral part of the success of Mountain America's recipes and process.
Mountain America Jerky is a firm believer that ours is not just ordinary beef jerky. Our jerky – made from thick cuts of marinated meats and fish – has a beautiful hickory-kissed, smoky charm that elevates it to a whole new level and delivers an unbeatable flavor experience.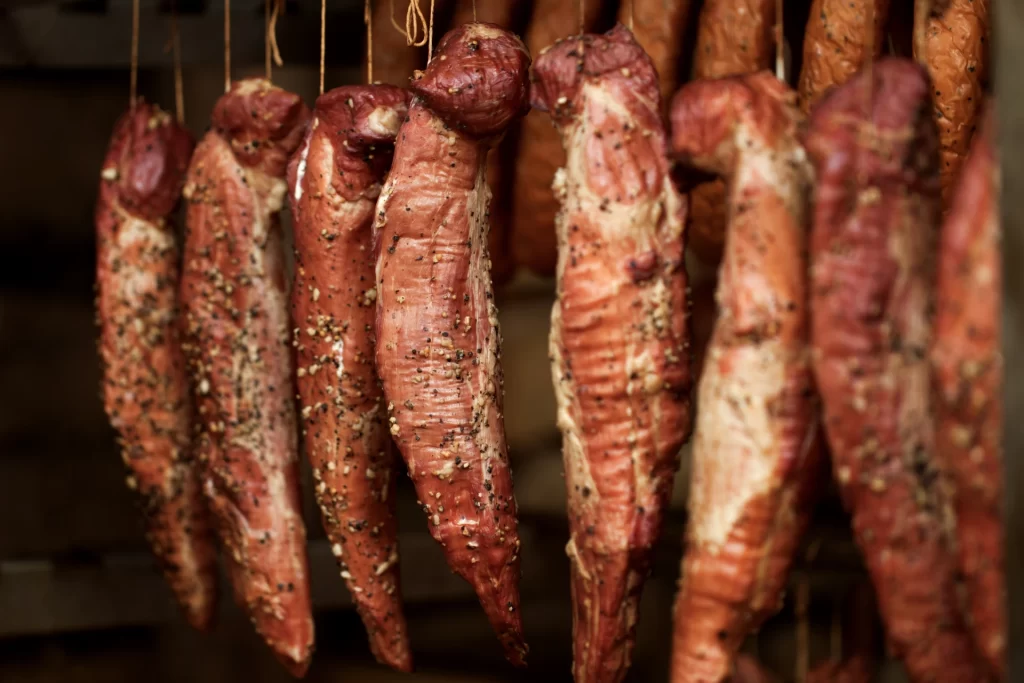 A Shout Out to the Craftsmanship of Mountain America Jerky
As popular and in-demand smoked meat is these days, it takes lots of practice, dedication and attention to detail to get it right. And if you're not careful, too much smoke or oversmoking can cause an unpleasant bitter taste that can ruin all that hard work.
When it comes to smoked jerky, craftsmanship matters. It's not just about the hickory wood; it's the skill of the smoker and the patience that goes into the process. The crew at Mountain America Jerky knows how to create a swirling symphony of smoke without overdoing it. Consider it a gentle nudge, not an overwhelming push. This allows the meat's natural flavors to shine through, leaving no room for bitterness to spoil the fun.
And here's how we do it:
Low and Slow
It's a commonly used phrase but accurately true just the same. The key to achieving perfectly smoked beef jerky is the slow and controlled process. It takes patience. We smoke our meat, poultry and fish at a low temperature for an extended period. This slow approach allows the hickory smoke to gently penetrate the meat, infusing it with flavor without overwhelming it.
There are two types of smoking methods used depending on the type of protein being prepared.
The most common method is hot smoking, when the cooking temperature generally falls between 190° and 300°. This both cooks the meat and simultaneously adds flavor without it needing to be cured.
Cold smoking, part of the process for our fish jerky, is more of a preservative method to dehydrate and prevent bacterial growth. Initially, the protein is cured and then exposed to smoke at temperatures lower than 120° for longer periods than hot smoking. This is a great method for seafood and cheeses and creates a rich, delicious smoky flavor.
Seasoned to Perfection
Mountain America Jerky's secret sauce lies in our marinade and seasoning (pun intended). The meats are marinated with our special blend of spices, sugars and salts before the hickory smoke goes to work, adding that special "je ne se quoi".
Savor the Flavor, Not the Bitterness
As we mentioned, one of the pitfalls of smoking meat can be bitterness. When overdone, it can leave a bitter taste in your mouth. But you won't find that with Mountain America Jerky. We've mastered the art of balancing heat and smoke to deliver a delicious, unforgettable flavor without a bitter end.
So Many Jerky Flavors Smoked to Perfection
We've talked a lot about how amazing hickory-smoked beef jerky is. And while there's no doubt it's an absolute fan favorite, why stop there? Because our entire product line is one giant hickory-smoked flavor bomb, including everything from teriyaki and spicy to black pepper and wild game.
With our secret marinade and hickory smoke as the backbone of our jerky process, each protein brings its own unique flavor and tempting qualities to center stage. And for this reason, there's never been a more perfect opportunity to expand your jerky horizons. For example, see what the deep, rich flavors of Salmon, Alligator or Ostrich jerkies are all about. Or maybe experience a curious step on the wild side with our Exotic Jerky Sampler pack.
The simple yet strategic act of adding smoke to the jerky-making process has transformed a humble snack, elevating it into a culinary treasure. The extra depth and dimension of flavor created by hickory smoke infuses a dynamic and irresistible taste experience that seems more or less baked into humanity's DNA. The roots of smoking meat, hickory's popularity and the science behind the flavors all come together in a perfect storm to make the irresistible allure of smoked beef jerky a scrumptious, savory sensation.
So, the next time you embark on a journey into the wilderness or just need a quick, healthy snack to get you over the hump, consider reaching for some Mountain America hickory-smoked jerky. Every variety is a flavor-packed adventure waiting to happen.