When adhering to a gluten-free diet, it can be difficult to find nutritious and flavorful foods that fall into the "acceptable" category. Sure, Rice Chex and Dr. Pepper are gluten free and taste good, but are they filling? Feel like you need a bowl of ice cream to top that off? Can man/woman live on that alone?
A second challenge to the gluten-free diet is eating on the go. Things are improving, but there simply aren't as many gluten-free options in restaurants, delis and fast food chains. The fancy-free, gluten-free eater has to be well prepared with snacks and plenty of them.
Enter high quality and delicious gluten-free jerky.
Jerky is a great contender in the gluten-free snack arena as it is flavorful, very filling and, as protein digests slowly, jerky leaves you feeling full for a long time.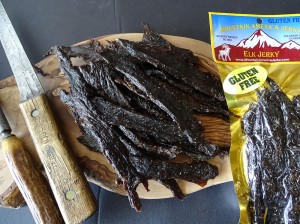 1. Gluten Free Elk Jerky is a wonderful option. Elk straight from the Rocky Mountains is a pure and nutrient-rich meat as it is completely free of growth hormones and steroids. Elk has a mild flavor that is comparable to beef, yet lower in fat.
High in protein and iron, Gluten Free Elk Jerky is seasoned with a mix of ground black and white peppercorns and no wheat products. There are no fillers, preservatives or nitrates added. It is thick cut and smoked in small batches every day. Elk Jerky is shelf-stabilized and easy to throw into a back pack or handbag.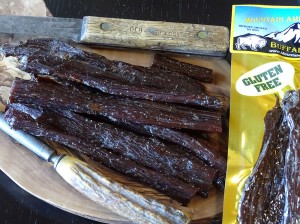 2. Gluten Free Buffalo Jerky is another tasty treat that packs a nutritious punch. American Buffalo (or Bison) has many similarities to Elk in that it is free from growth hormones and steroids and contains a high amount of protein and a low amount of cholesterol and fat. Buffalo jerky is so healthy that it is endorsed by the American Heart Association (reference).
Seasoned with a classic combination of black and white peppercorns that compliments the subtle sweetness of the meat, GF Buffalo Jerky is delicious. For a healthy meal idea, try chopping up a package of jerky and topping a baked potato, a salad or a plate of corn chip nachos.
About Our Gluten Free Jerky
No wheat is used in processing or flavoring and there is no added MSG, nitrates or other fillers. There is typically less salt in these artisan jerkies compared to large leading brands, and our facilities and suppliers are approved by the FDA and the USDA.
So shelve the second Dr. Pepper and do your glutenless life a favor. Order these varieties of jerky and our gluten free snack mix and enjoy flavorful and healthy snacks at home and on-the-go. Stick some in your gym bag, book bag, and car and see how tasty your snacks can be!