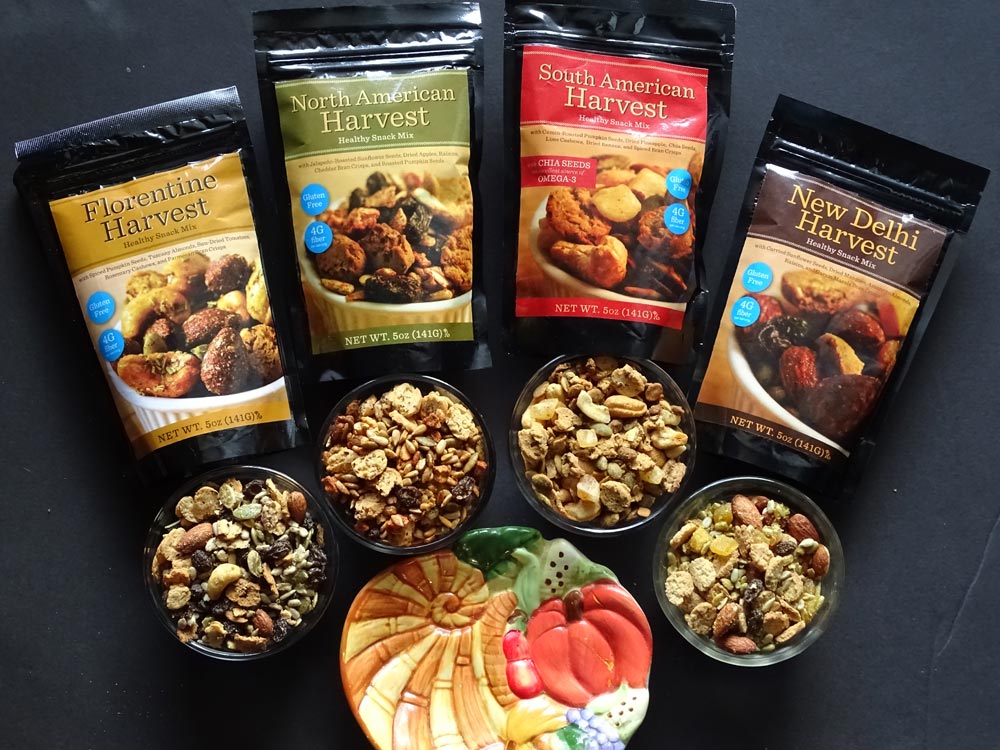 Say you've been on the trail all morning, and that big bowl of oatmeal you had for breakfast just isn't sticking to the ribs anymore. A tasty, filling treat that will keep you going is a Healthy Snack Mix. Mountain America Jerky offers four delicious types with distinct flavors culled from around the world to satisfy your hunger and your taste buds.
Our snack mixes are unique and completely free of preservatives and unnatural flavors. All our snack mixes are hand mixed in small batches. They are vegetarian, gluten-free and high in fiber and protein. An excellent accompaniment to a jerky snack or simply washed down with a Nalgene full of water, these flavors have been kid- and adult-tested. Not too salty, not too sweet, and not too spicy. They are just right!
About Our Healthy Snack Mixes
North American Harvest | A mouthful of zest! North American Harvest features jalapeño roasted sunflower seeds, sweet dried apples and roasted pepitas (pumpkin seeds). All of this spicy sweetness is firmly balanced with cheddar bran crisps.
South American Harvest | Another seedy/sweet/spicy option, South American Harvest is made up of cumin roasted pumpkin seeds, sweet and tangy dried pineapple, and lime cashews. Dried bananas sweeten it up while spiced bran crisps and chia seeds round the mix out. Chia seeds are known for being filling, full of Omega 3 fatty acids and are easily digested.
Florentine Harvest | The taste of Italy in a small package! Florentine Harvest is our most savory offering. No fruits are used in this mix, simply spiced pumpkin seeds, Tuscany almonds, sundried tomatoes, rosemary cashews and parmesan bran crisps. This mix is as equally appropriate for the trail as it is for an upscale cocktail party.
New Delhi Harvest | An exotic mix inspired by the Far East. Curried sunflowers and dried mangos mix with amaretto almonds and Garam Masala bran crisps. Garam Masala is an aromatic spice mix that adds warmth and heat to the sweet almonds and mangos. A colorful snack out of doors, it would be a nice accompaniment to an artisan beer tasting.
Save when you try all four.
Healthy Snack Mixes offer a welcome alternative to the sodium laden options at the grocery store today. They are a nice choice for those with gluten sensitivities. The variety that we offer is worth a sample and our high quality ingredients and attention to craftsmanship will not leave you disappointed. Whether you are hitting the hiking trail, the ball park or your neighbor's backyard BBQ, take along a bag of Healthy Snack Mix and you'll be doing everyone's taste buds a favor!