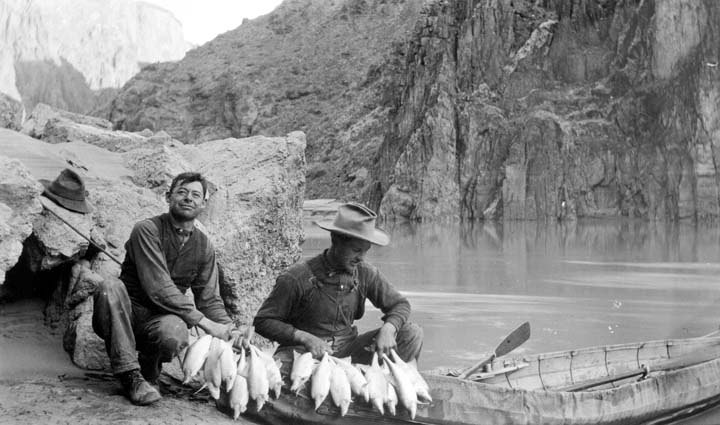 5 Jerky Flavors, 5 Types of Dads
Dads come in all shapes and sizes. There's your classic outdoorsman, the kind of dad who gave you your first pocketknife on a trip to Yellowstone. Then there's the sports-loving dad. The dad who played catch with you until the sun went down. There's the strong silent type, the chef, and the fisherman. Whatever kind of guy your dad is, this Father's Day, we celebrate him. We celebrate fatherhood.
To kick off the celebration, we paired a few classic dads with some of our classic beef jerky. No matter what kind of man your dad is, there's a jerky for him. Here's to the old man. Here's to dad.
Father's Day Jerky
The Outdoorsman
This dad lives to breathe fresh mountain air. He blood pumps adventure and he's not afraid to get his hands dirty. His favorite color is flannel. For this dad we recommend the Spicy Buffalo Jerky. This jerky roams wherever dad does, and it adds a bit of a kick to his next expedition.
The Fisherman
If you grew up with this dad you can tie a fly as well as anyone. You have fond memories of getting up before sunrise to head to the lake. You cracked your fist beer with dad on a boat. For this dad, we recommend the Trout Jerky—he may not have caught it himself, but it'll bring back memories of catching the big one.
The Strong Silent Type
This dad knows every John Wayne movie by heart. This guy may not talk a lot, but when he does, everyone darn well listens. He taught you to be tough, to fix things, to take care of your car. He taught you the value of hard work. Match his tough-as-nails demeanor with our Smoked Rattlesnake Meat.
The Sports Nut
Did you have a baseball mitt before you could walk? Do you think back on the sound of the crowd, the peanuts and soda, the thrill of the game? If so, you grew up with the sports nut. He still loves to talk stats with you. He never missed one of your games. For this dad, we recommend the Sweet and Spicy Beef Jerky—it'll pair well with that ballpark brew.
The Chef
This dad helped you understand the necessity of salting properly. He made sure you knew that a grilled steak needs to rest, and that seasoning a cast iron pan is a fine art. This dad made your mac n cheese from scratch and never misses a chance to cook Thanksgiving dinner. For this dad, we recommend the Exotic Jerky Sampler to entice his very distinguished palette.