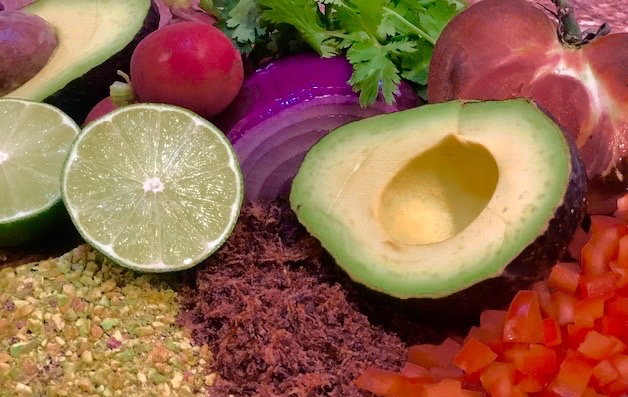 Bring on summer. Bring on the sun, the pool, and the BBQ. Bring on the seemingly endless days spent with family and friends celebrating the long, sun-drenched days and the joy of a cold beverage by a body of water. As we move into the new season, we invite you to try our new summer recipe—beef jerky, avocado, and roasted corn salad.
While the kids are setting up the sprinklers and the water balloons are being filled, we will inevitably fire up the grill for some burgers, brats, or other meaty treats. Yes, these delicacies are vital to a summer well spent, but a delicious accouterment can bring these entrees to life. Bring on the avocado salad.
Our avocado and roasted corn salad combines all of the freshest summer vegetables with our peppery beef jerky and smoked pistachios. The result is a bright avocado salad with plenty of spice and hickory, combined with the coolness of avocado and tomato. It's the perfect salad to stand up to your neighbor's "famous" smoked ribs—a salad to be remembered for barbecues to come.
Beef Jerky, Avocado & Roasted Corn Salad Recipe
Ingredients:
2 – 14oz cans corn
2 tbsp. butter
1 tsp. salt
1/2 tsp. pepper
5 avocados, cubed
½ c. shredded jerky
2 limes, juiced
5 radishes, thinly sliced (reserve a few sliced for garnish)
½ red bell pepper, minced
1 tomato (heirloom, ideally) diced
¼ c. finely minced red onion (reserve a pinch for garnish)
3 tbsp. minced cilantro (reserve a tsp. for garnish)
1 jalapeno, minced
1 tbsp. olive oil
salt to taste
pepper to taste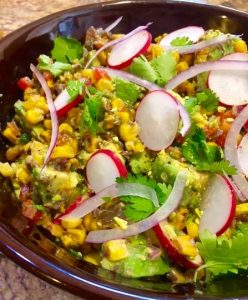 Directions:
Warm 2 tbsp. butter in a sauté pan. Add the corn to the pan. Sprinkle on the salt and pepper and cook until slightly charred, about 10 minutes, stirring constantly. Set aside. Add avocado, jerky, smoked pistachios, lime juice, radishes, red pepper, diced tomato, red onion, jalapeno, and cilantro to a large bowl and toss. Add the cooled corn. Toss with olive oil, salt, and pepper. Garnish with red onion, cilantro, and radish. Serve at room temperature.
Serves 8 (as a side).