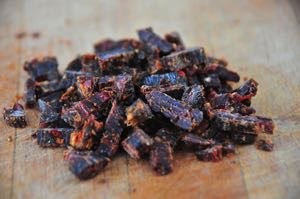 Jerky is a well-known and well-loved snack food. But did you know that you can get your jerky fix in a healthy and delicious main course meal? Here is a recipe for Pear and Blue Cheese Salad, topped with Sweet and Spicy Beef Jerky, it works well for a light lunch or dinner, or take it to your next potluck and prepare to wow attendees with this scrumptious crowd pleaser.
Jerky not only punches up the flavor of a salad, it adds a nutritional element. Beef jerky is naturally low in fat and high in protein. Jerky pared with other superfoods like greens and roasted nuts and this meal deserves a nutritional gold star.
Chop or Shred?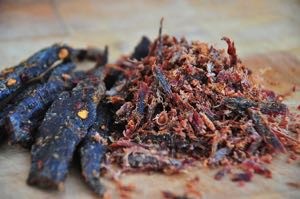 A hallmark of jerky is a chewy texture and chewy isn't always desired in a salad topper. One way get around the texture while retaining the delicious jerky flavor is to simply chop the jerky with a sharp, sturdy knife or pulse in a food processor. When chopping, aim for bacon bit size. Jerky is flavorful and a small nugget of sweet and spicy is just the right size to balance the fragrant and tangy ingredients of this salad.

Pear and Blue Cheese Salad with Jerky Recipe
4 cups mixed greens
½ cup blue cheese, crumbled
2 pears, small and ripe, sliced
3 scallions chopped
¼ cup almonds or pecans, chopped
3 oz Sweet and Spicy Beef Jerky, chopped or shredded
The Dressing: Balsamic Vinaigrette
¼ cup plus 1 TBSP olive oil
2 TBSP balsamic vinegar
1 tsp dijon mustard
1 tsp maple syrup
1 garlic clove, crushed or minced (optional)
salt and pepper to taste
Directions:
Assemble the salad. Place mixed greens in a salad bowl, then top with the blue cheese, pears, scallions, and almonds or pecans.
To make the dressing, combine all dressing ingredients in a small bowl or jar and whisk or shake. A teaspoon or two of hot water can be added to the dressing for desired consistency. Toss the salad with the dressing and top with jerky. Enjoy.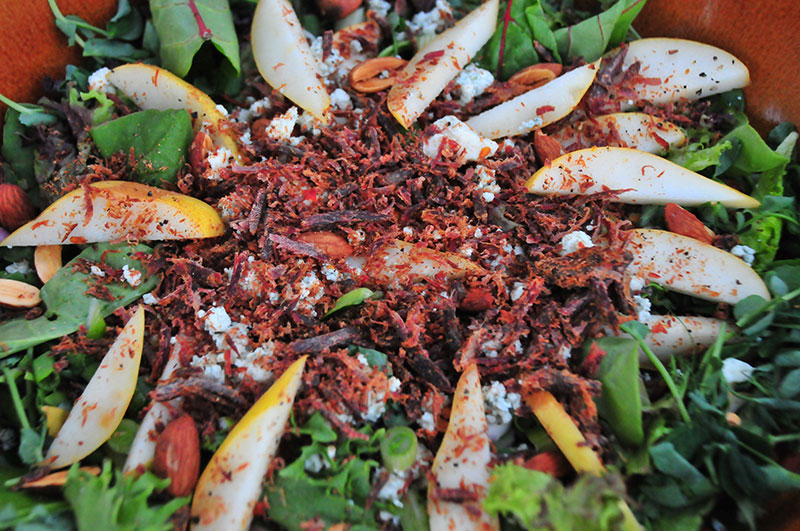 Mix it Up!
Do you like the idea of a salad, but are looking for something a little more filling? Try adding grilled chicken for a little more heft. Another great substitute would be apples instead of pears, or even a citrus like an orange. If you like your salad dressing as spicy as your jerky, add a few red pepper flakes to the dressing. That will surely heat things up!
Try adding this pear and blue cheese salad to your autumn meal rotation; just when pears are coming into season. Top with your favorite jerky and enjoy!