It's been said that great things come in small packages. That truism definitely can be ascribed to beef jerky – a delicious meaty snack that, unfortunately, comes in small yet expensive packages.
When contemplating the price of beef jerky, a certain quote from The Sandlot comes to mind: "you're killing me, Smalls."
Seriously though… how does such a small amount of tasty, chewy beef jerky cost so much? Even the price of the "cheap jerky" you typically see at gas stations can be mind-boggling.
So, why is beef jerky so expensive?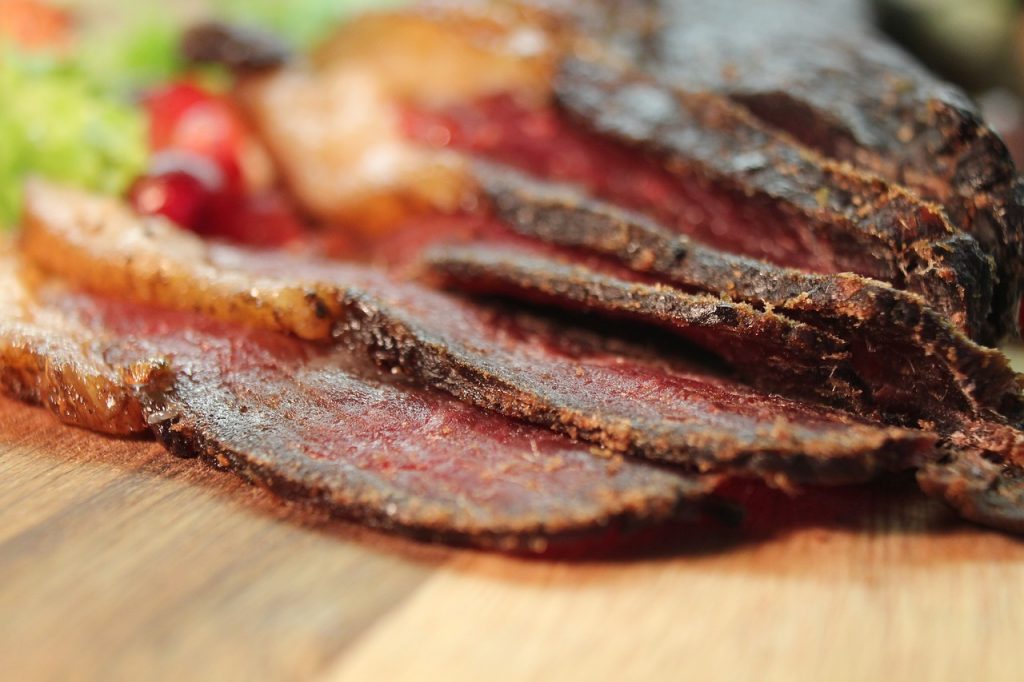 Water Weight
One of the main reasons the beef jerky costs so much is water. Beef is approximately 60% water, so once the meat is dehydrated or smoked, the weight of the remaining meat is drastically less than what you started with.
Here at Mountain America Jerky, a 50 lb smokehouse load yields 23 lbs of finished product.
Quality Over Quantity
When it comes to the price of beef jerky, a lot depends on the cut of beef used to make the jerky. The best cuts for beef jerky are lean, which are more expensive than fattier cuts. High-quality jerky makers like Mountain America Jerky tend to use top and bottom rounds, as these lean cuts provide the best flavor and texture for jerky.
While cheap jerky is made from less expensive, fattier cuts that have more marbling, this option sacrifices quality for a slightly lower price point for consumers. When it comes to beef jerky, the taste and texture of quality cuts are worth the price.
Labor-Intensive
In addition to taking over twice as much initial weight to make even the smallest amount of beef jerky, the actual process of making jerky is time-intensive. From start to finish, it takes up to three days to make even a small batch of jerky.
While most commercially-made jerky is dehydrated in order to lower the labor cost of beef jerky, this method – while less labor-intensive – results in drier, rougher jerky. Many high-quality jerky makers opt to smoke their meat instead. This method requires a more hands-on approach but results in semi-moist, chewy strips of "meat licorice." By and large, the smoking method is preferred by beef jerky enthusiasts, however it does mean a higher price tag.
Additives
Finally, many beef jerky companies use a lot of additives, such as preservatives and fillers. All of these extra chemicals and ingredients raise the price of low-quality beef jerky, as they increase production costs.
High-quality beef jerky typically doesn't contain any additives; however, the cost of better cuts of beef and superior processing is reflected in its slightly higher price point.
So, why is beef jerky so expensive? A whole host of reasons. But as we said before, great things come in small packages… and quality beef jerky really is worth its weight in gold.