Spring is finally here!
Hallelujah! No longer will Ol' Man Winter keep us hostage with darkness and cold. Put the parkas and shovels in the crawl space, bury the hot chocolate behind the lemonade mix, put some beer on ice and restock the tackle box. We will no longer see the outdoors through a window. We are getting out of this house, hitting the trail and trading our soup and bread for our favorite on-the-go snacks. Mountain America Jerky is portable, nutritious and natural style, making it the ideal spring and summer snack. And our jerky pairs perfectly with ice cold beer.
Twelve Packages for One Low Price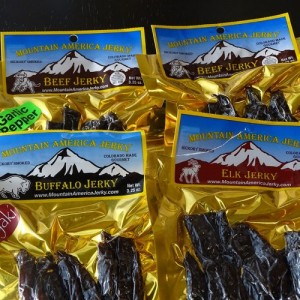 If that sounds good to you then you need to savvy yourself to the Jerky of the Month Club. JOTM is simple: for a low fee of $41.98 per month including shipping, we will send you 4 different jerky flavors totaling 13 ounces every month for three months. Arriving at your door will be jerky flavors including but not restricted to beef, turkey, elk, venison, buffalo, pepper, spicy, teriyaki and our original spice mix. If variety is the spice of life, then your spring is going to tickle your tongue!
Why it's the perfect gift idea for Dads & Grads
If you need an excuse to indulge those nearest and dearest, Easter, Father's Day and graduation season are right around the corner. You can even just celebrate the fact that the days are now longer than nights. Your man's first shipment will include Beef Original, Beef Garlic Pepper, Elk Original and Buffalo Teriyaki. Dynamite bites, if we don't say so.
Customize Your Bites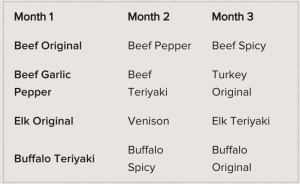 Mountain America Jerky makes the buying process easy by designating a perfect combination of jerkies delivered each month. But let's say you want Ostrich, Alligator or Alpaca Jerkies included in your order. With the Order Modification option you can pick and choose your own flavors and combinations. You can even extend the JOTM beyond three months. Just call (303) 257-4711 to customize your order.
Feel Good Eating Healthy
Spring is in the air. Commit a special someone to three months of awesome jerky surprises. All the jerky is thick cut, marinated and hickory smoked daily with absolutely no fillers, preservatives, nitrates or MSG, so you can feel good giving a delicious, nutritious, light spring snack to your loved ones.