Salmon jerky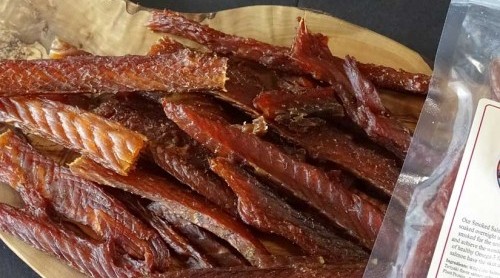 isn't just packed with nutrients, it is full of flavor: a little smoky, a little sweet and a little salty. While it's perfectly delicious a la carte, salmon jerky can punch up a number of appetizers and food items. From sun-up to sun-down, there is an opportunity to enjoy this delicious treat. This list of seven smoked salmon recipes is just the tip of the salmon jerky iceberg and will no doubt get your creative culinary juices flowing.
Quiche
Sauté a couple of green onions and a handful of spinach; add a half a cup of diced salmon jerky. Mix a few eggs with cream and pour it all into the crust of your choice. Non-crust is okay, too, just make sure the pan is well greased. Top with some cheese if you have it and bake at 425 degrees for 20-25 minutes. Feel free to experiment with different veggies and cheeses, just don't forget the salmon jerky!
Cheddar Biscuit
In this recipe, salmon jerky is a stand-in for bacon. In comparing the two, salmon jerky is nutritionally superior, hands down. Mix 2 cups of flour with 2 teaspoons of baking powder, two teaspoons of sugar and ½ a teaspoon of salt. Blend with your fingertips 5 tablespoons of cold, unsalted butter into the flour mix. Add half a cup of diced salmon jerky and ¾ of a cup cheddar cheese. Lastly, stir in ¾ of cup buttermilk until mixture forms lumpy dough. Drop 12 equal mounds onto a well-greased baking sheet and bake at 450 degrees for 18-20 minutes.
Salad Topper
Salad makes a nice light meal or side to a larger meal, and is especially nice during the warm summer months. Starting with a mound of field greens, toss in a chopped apple; something sweet like a Honey Crisp. Add a large handful of chopped salmon jerky that will balance the juicy sweetness of the apple. For some crunch add a cup of chopped hazelnuts and toss with a balsamic vinaigrette.
Cheese Spread or Dip
For a classic breakfast or appetizer spread salmon jerky works well with cream cheese. Soften 8 ounces of cream cheese and combine with 2 ounces of chopped capers, ¼ cup chopped red onion, the juice and zest of one lemon and salt and pepper to taste. Add in ½ cup of salmon jerky. Serve with crackers, bagels or pita crisps.
Creamy Pasta Sauce
Salmon jerky adds a nice tang to creamy pasta sauce. This could be an elegant dinner item when combined with some freshly steamed asparagus. To begin, grate 1 and ½ teaspoons of fresh lemon zest and squeeze 3 tablespoons of juice, set aside. Sauté 2 large shallots in 3 tablespoons of unsalted butter until softened. Add lemon zest, stir in ¾ cup of heavy cream and simmer until thickened, about 10 minutes. Finish off with lemon juice and salt and pepper to taste. Toss with a pound of cooked fettuccine.
Wasabi Crisps
Are you a spice addict? Do you know a spice addict? They will love this unconventional combination. Begin with a tablespoon of prepared wasabi in paste form, and mix the wasabi paste into a cup of sour cream. Add more wasabi to taste. Serve on baked wontons or rye crisp breads, topped with a small square of salmon jerky.
Quesadilla
Looking for a smoky take on the quesadilla? Chop a sweet onion and caramelize until soft and brown. Toss that into a tortilla with a mild cheese like mozzarella and sprinkle in a handful of chopped salmon jerky. Serve with white beans on the side. Delicioso!
When you start experimenting with salmon jerky you might discover a new favorite cooking ingredient that is downright addictive! A little goes a long way and unlike the bacon bit, salmon jerky is incredibly nutritious. Stick to a natural style, wild caught variety and your inner nutritionist and taste buds will be pleased!