Stocking stuffers are simply the icing on the Christmas cake. So why not stuff with some high quality edible goods? Of course, everyone loves to find an orange in the toe of their stocking, or a foil wrapped chocolate Santa, but load up a stocking with a few items off of this carefully curated list and you'll really impress your loved ones.
1. Mo's Bacon Chocolate Chip Pancake Mix by Vosges: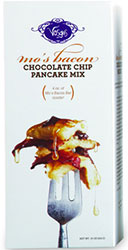 Really, why would you stop at a simple bacon chocolate bar when you can have a legitimate excuse to eat bacon chocolate for breakfast OR dinner with this handy mix. Fluffy buttermilk pancakes are flecked with applewood smoked bacon, alder sea salt, and milk chocolate chips. Learn more or purchase Mo's Bacon Chocolate Chip Pancake Mix.
2. BBQ Sauce Sampler Gift Kit by Pig of the Month BBQ: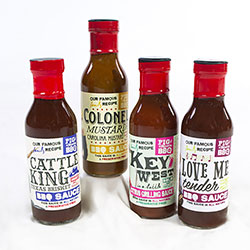 Slide one of these four 12 ounce bottles of BBQ sauce into each of those stockings. These best-selling BBQ sauces are perfect for the grill or as a marinade. Each one is completely natural, no preservatives or corn syrup, and they are all gluten-free. Plus, these sauces come recommended by America's top chefs. Learn more or purchase Pig of the Mouth BBQ Sauce.
3. Six Pack Beef Jerky Sampler by Mountain America: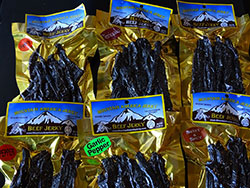 A beef jerky flavor for every stocking on Santa's list. At 3.25 ounces a package, these are substantially sized and substantially delicious. The sampler includes Sweet & Spicy, voted #1 Spicy-Sweet Jerky by Men's Health Magazine, among other favorites like Garlic Pepper and Peppered Beef. Our jerky is smoked daily and made from hand-cut strips of lean Colorado beef. Let your loved ones mix and match, and have your own jerky tasting. Learn more or purchase Mountain America's Six Pack Beef Jerky Sampler.
4. Bourbon Marshmallows by Wondermade: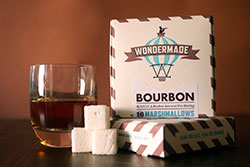 Hold on to your eggnog, this is a serious snack that will make your friends jealous. Using the finest Kentucky whiskey these marshmallows come in a pack of 16. They will make one tasty s'more or an incredible garnish in an adult hot cocoa. Learn more or purchase Wondermade Bourbon Marshmallows.
5. Hickory Smoked Pistachios by Mountain America: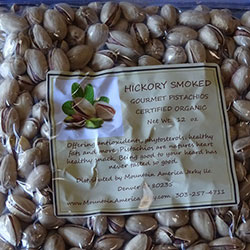 Smoked nuts are really a treat. Our organic pistachios come in a 12 ounce re-sealable bag and make a fantastic holiday treat (especially for the vegetarian stocking). They are easy to pop in a backpack, handbag, or briefcase. Pistachios are high in protein, dietary fiber, B Vitamins, and calcium. These also come in a Habanero flavor, which has been described to have a mild, creeping heat. Learn more or purchase Mountain America's Hickory Smoked Pistachios.
Hope you like our picks for awesome edible stocking stuffers. Plan ahead, most will need to be ordered, but the effort will pay off in spades, and hopefully it will pay off by your loved ones sharing with you. Now that sounds like a Happy Holiday!