Surely you've noticed a Tibetan Yak in a pasture somewhere. Tibetan Yaks look like large cows with big horns that stick out sideways and long fluffy bangs that stick up and hang in their eyes. They are central to the cultural and life of high mountain communities in the region of Tibet because they provide transportation, hair fiber for weaving, and milk and meat for nourishment.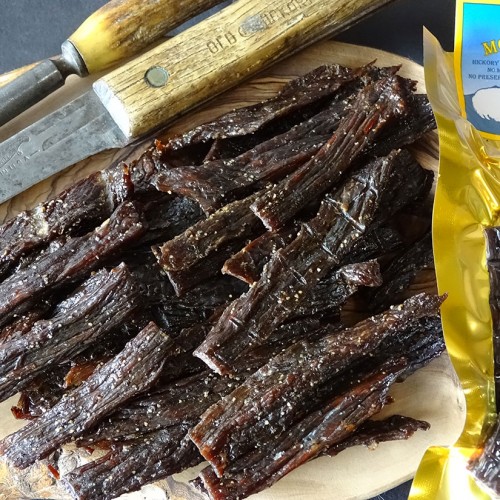 As a matter of fact, Tibetan Yak meat is some of the most delicious and nutritious in the world. Grass-fed beef, bison and lamb are considered nutritionally superior to chicken and pork because of the high levels of vitamin B, iron, zinc and other micronutrients. Red meat also aids the body in absorbing Vitamin D from the sun.
Yak boasts all of these nutritional benefits but shows to be higher in protein and leaner in fat than beef and even Bison. Grass fed, no additives, no growth hormones, no steroids, no antibiotics, no contaminants or artificial anything makes Yak meat a juicy, mild-flavored meat that feels lighter than beef. Tibetan Yak jerky is a wonderful way to experience this stellar meat. At Mountain America, it is this cut, marinated and hickory smoked daily.
Ultra lean dark red meat, Yak gets it's juiciness from the high content of Omega 3 oils, which are the fats that are considered healthy. However, Yak is very low in saturated fats, cholesterol and triglycerides. It is a hearty meat that is never greasy or gamey. Tibetans are renowned for their health and longevity and they owe much of that to their consumption of Yak.
Try Yak jerky today. Impress your friends with your commitment to a delicious nutritional treat and get a little taste of the Tibetan Himalayas.