Hickory Smoked Cheddar Cheese and the Right Technique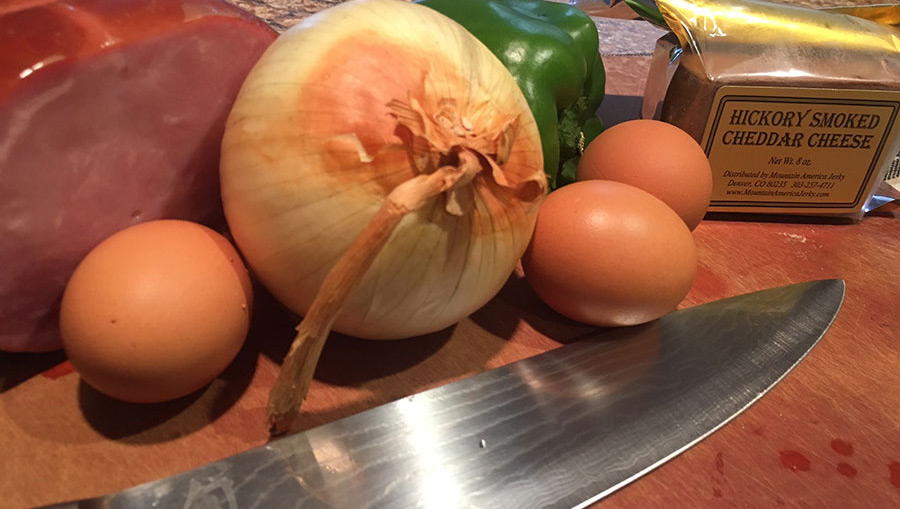 When you're heading out for a day on the mountain, schussing the perfectly groomed slopes or dodging trees in the backcountry, you need to start the day with a little something in your stomach—fuel for the adventure ahead. We love a good, old-fashioned breakfast of black coffee, a warm and roaring fire, and a simple yet expertly executed omelet.
Of course, when making omelets there's just nothing better than the Denver variety. The mixture of sautéed peppers and onions, a delicious smoky ham, and just the right flavorful, soft cheese makes for the ideal getting-ready-to-slay-some-powder breakfast. We use our hickory smoked cheddar cheese to add a little spice and a whole lot of flavor to elevate this classic mountain breakfast.
Ingredients:
2 Tbsp. canola oil
1 c. smoked ham, cubed
1 c. green pepper, diced
1 c. yellow onion, diced
1 c. hickory smoked cheddar, grated
2 tsp. salt
½ tsp. pepper
8 large eggs, beaten
4 Tbsp. butter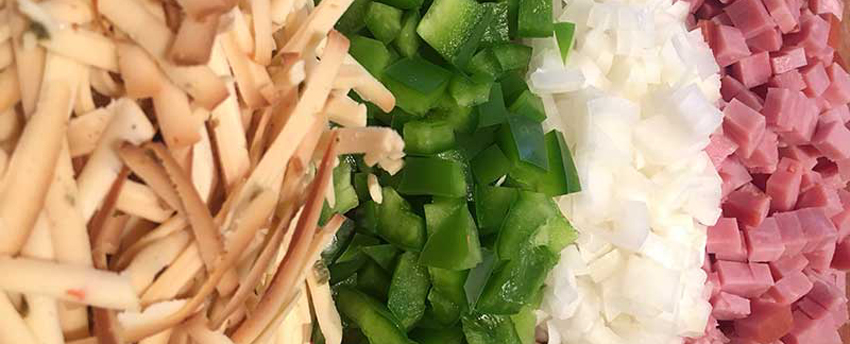 Directions:
Place a medium-sized skillet over medium-high heat and add 1 Tbsp. of the canola oil. Add the ham and brown lightly for about five minutes. Place the ham in a large bowl.
Add the remaining 1 Tbsp. canola oil to the skillet and cook the onions and peppers until the onions are translucent and the peppers are cooked but still slightly crispy. Add a touch of water to deglaze the pan and then add the onions and peppers to the ham and mix completely.
Make one omelet at a time by beating the eggs in batches, 2 at a time (or three if you're really hungry) with a pinch of salt and pepper and a splash of water.
Using a small, non-stick pan, add a Tbsp. of butter and wait about 30 seconds for it to melt. Add the eggs (beaten and seasoned) to the pan and, after about 60-seconds, using a rubber spatula, pull the egg mixture from the top, left, right, and bottom to settle the omelet.
Next, add a quarter of the cheese (the eggs may still be a bit loose, this is ok), and a quarter of the pepper, onion, and ham mixture.
Fold one-third of the egg over from the right to the middle and cover for about one-minute. Finish by folding the other third over on the plate (crease-side down).
Repeat sets 3 – 6.
Add a touch of salsa, sour cream and/or fruit to the plate. Enjoy!
Serves: 4