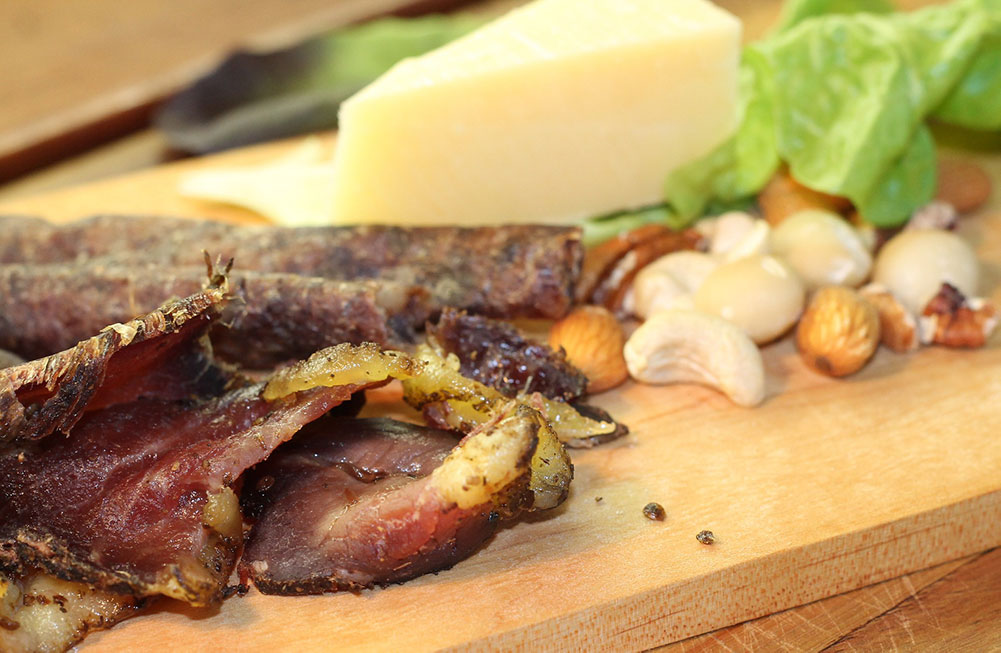 Diet crazes come and diet crazes go, but one current diet fad that seems to have staying power is the keto diet. Not as extreme as the Carnivore Diet or as unrestricted as the typical American diet, keto meal plans can easily incorporate low-carb beef jerky and other low-carb snacks to help you lose unwanted weight.
What Is the Keto Diet?
Officially called the ketogenic diet, the keto diet is a low-carb, high-fat diet. Under a keto diet, daily carbohydrates are drastically reduced – typically to under 50 grams – and should come chiefly from high-fiber vegetables.  
The majority of your daily calories (75%) should come from high-quality fats such as extra virgin olive oil, coconut oil and avocado. High-quality, high-fat meats, such as salmon, pork belly and low-carb beef jerky, should make up 20% of your daily calories.
For most Americans, those numbers look scary. For decades, we've been told that fat is bad – and it is, when eaten in conjunction with carbohydrates. There is, however, such a thing as "good fat," and the keto diet uses high-quality fat to fuel weight loss.
When done correctly, the keto diet puts you in a state of ketosis. Ketosis is a normal bodily process where your body burns fat instead of glucose (or carbs). As your body burns fat for energy, it produces acids called ketones, which are then used for fuel.
While there can be many health benefits to a ketogenic diet, it may exaggerate some underlining health issues. Always talk to a doctor before trying any new diet or exercise routine.
Keto Beef Jerky and Fat Loss
Now, onto the good stuff: low-carb beef jerky. While there is no such thing as "keto jerky," sugar-free beef jerky can be a perfect keto snack or part of a keto meal. Paired with a high-quality fat, such as an avocado, or tossed in some extra virgin olive oil and served over a salad or vegetables, low-carb jerky can provide the high-quality protein necessary for a balanced keto diet.
Because maintaining the correct levels of fat, protein and carbohydrates (75%, 20% and 5%, respectively) is vital to achieve fat loss with a keto diet, its best to stick to low-carb beef jerky, versus other low-carb jerky made from leaner meats (i.e.: turkey jerky, venison jerky, alligator jerky, etc.).
While there are a lot of extreme diets out there, the keto diet isn't as crazy as it may seem. The keto diet has a lot going for it. Its focus on quality fats and proteins alongside a diet heavy in high-fiber vegetables really does supercharge fat loss. And while the keto diet should not be a life-long eating habit or a diet for anyone who is diabetic or pre-diabetic, it does wonders to reset your metabolism once or twice a year.
In our opinion: The best part about the keto diet? Full permission to eat delicious, low-carb beef jerky.