Our Favorite Cinco de Mayo Recipe
In Mexico, Cinco de Mayo is a fairly minor affair. The day is meant to celebrate the Mexican Army's victory over France in the Franco-Mexican War of 1861-1867. However, in the United States, the day has evolved into a celebration of Mexican culture and heritage, particularly in areas with large Mexican-American populations.
Here, we crack ice-cold Coronas and bust out our favorite Mexican recipes. Carne asada tacos, chicken enchiladas, and nearly bursting burritos abound. Latino communities are alive with the sounds of mariachi. Margaritas are the toast of the town.
Every year, we at Mountain America Jerky look forward to the festivities of Cinco de Mayo. Mostly, we look forward to wowing our friends and family with culinary delights. Our Peppered Beef Jerky and Black Bean Tostadas are always a crowd favorite. The shredded jerky adds a peppery, salty smokiness to the beans, while fresh garnishes bring brightness and variety to the dish. Enjoy with your favorite cerveza, and happy Cinco de Mayo!
Jerky and Black Bean Tostada Recipe
Ingredients:
For the Black Beans:
1 tbsp olive oil
1 yellow bell pepper, diced
1 medium red onion, minced
1 jalapeno, minced
1 28oz can black beans
1 tsp garlic powder
1 tsp salt
Juice of 1 lime
1 pkg Mountain America Jerky Peppered Beef Jerky, shredded
½ c water
For the Tostadas:
Cooked black beans
Tostada shells (4)
½ c queso fresco
4 radishes thinly sliced
Reserved yellow pepper, diced
1 avocado, cubed
½ c Mexican crema
4 sprigs cilantro
1 lime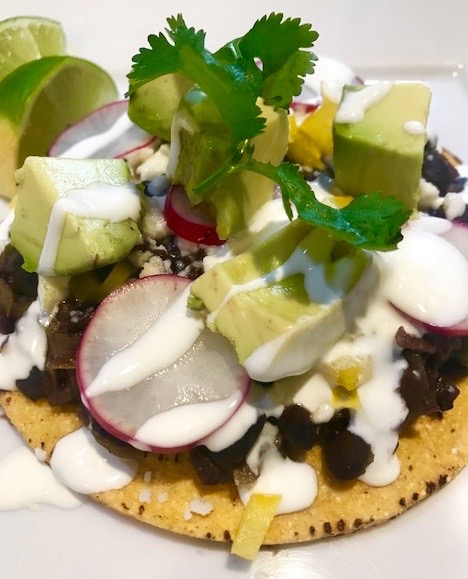 Directions:
Warm olive oil in a medium saucepan over medium-high heat. Add onion, diced jalapeno peppers, and ¾ of the diced bell peppers and cook until tender, about 10 minutes. Drain black beans (but do not rinse) and add to the pan. Add garlic powder, shredded Peppered Beef Jerky, salt, lime juice, and water and cook for 10 minutes, stirring intermittently.
To assemble, place a tablespoon of beans on each of four plates. Place tostada shell on top of the beans (the beans under the shell prevent it from sliding around on the plate). Add equal portions of the bean mixture to the top of each shell. Top with queso fresco crumbles, sliced radishes, reserved diced bell pepper, and cilantro. Drizzle the Mexican crema over the top of each tostada, and add lime wedges to each plate. Serve immediately.
Serves 4.