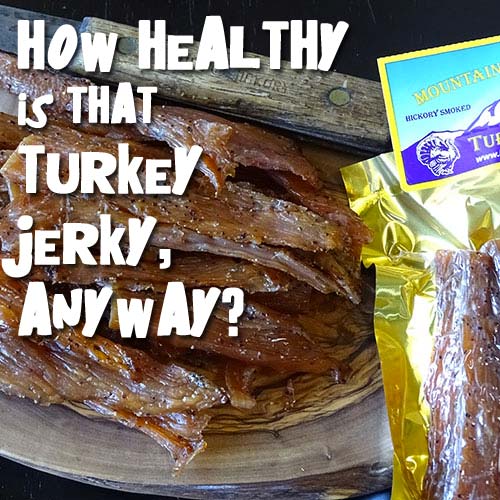 How much more delicious was that hot dog before you knew what went into making it? Delving into the nitty gritty particulars can be more like opening a (ahem) can of worms. Do you really want to know if your favorite snack is healthy? Lucky for you, you can keep the top on that can, and save your worms for that fishing trip later.
That's because when your favorite snack is turkey jerky, there's very little to worry about. Here is the healthy low-down on turkey jerky.
Protein: Turkey jerky has a high dietary protein content which is beneficial for two reasons. First, it is necessary to maintain muscles and to develop muscle growth. The second benefit of a protein punch is that protein digests slower, making high protein foods very satiating. In other words, they keep you full longer, and you are less likely to overeat later in the day.
Fat: Almost all protein sources contain some amount of fat. While turkey does contain a small amount of saturated fat, it is in limited quantities and considered a very low-fat protein. Look for jerky made with white meat, say turkey breast, and the fat content will be minute.
Calories: Good news for those who count calories. Lean protein has four calories per gram in contrast to fat that has nine grams. So chomp away, turkey jerky is low in calories.
Sodium: Something to watch out for in many varieties of turkey jerky is sodium. Cured meats can contain high amounts of sodium which can cause a number of health related issues. Look for jerkies that do not use nitrates or preservatives to avoid a high dose of sodium.
Good news: Mountain America Jerky's Turkey Jerky contains less salt than most commercial manufacturers! We use 100% turkey breast meat. Moist and somewhat chewy, not all dried out like some other jerky makers. 
When the 3:00 p.m. lull rolls around, have no fear in reaching for a pack of fresh hickory smoked turkey jerky. The protein content will fill you up and give you a nice energy boost until dinner time. The best part is, turkey jerky doesn't have to be refrigerated, so you can toss it in your back pack, locker, hand bag, fanny pack or anywhere and look forward to a healthy, tasty treat!
P.S. – Get the jerky nutrition beta on all of our jerky varieties.