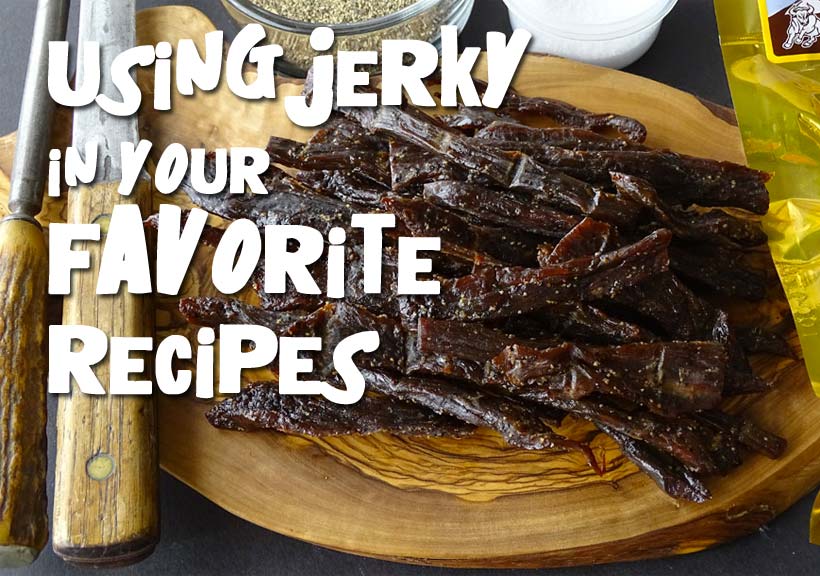 Do you love jerky for backpacking and quick snacking? We do, too (no surprise there), but we've also found some tried and true ways to use jerky in recipes to create a full meal. High in lean protein and flavor, jerky can be used as zesty ingredient in many foods. Try dicing some and adding it to breakfast omelets, on baked potatoes or salads. Jerky can also be added to soups or stews, and can provide a helpful iron and nutrient boost.
Here are a few recipes to try at home:
Cornbread with Smoked Jerky
This Cornbread recipe is inspired by Epicurious and has four out of four forks. Originally designed for pancetta, jerky would make a suitable alternative and that you could use to really bump up the spice factor, if that's how you like your cornbread. Any beef, bison or wild boar jerky would do just fine.
Biscuits with Jerky Gravy
Not for the faint of heart. Really, eating too much of this recipe might make you heart stop ticking, but we believe in the "all things in moderation" sentiment. Said to be one of the "best breakfasts a cowboy ever ate" biscuits with jerky gravy will stick to your gut, for sure. A basic gravy recipe is about one tablespoon cornstarch, two tablespoons butter, a cup of milk, salt and pepper to taste and mix over medium heat until brought to a boil. Boil for one minute and then add a heaping handful of diced jerky. You can substitute burlier items for the butter like bacon grease, but no matter what, you will impress your friends with a breakfast cooked with grit.
Tomato Sauce
Take four ounces of jerky and chop up to bite size pieces. Place in boiling water for a few minutes, and set aside. Saute a 1/2 cup chopped onion with 1/2 cup chopped green bell pepper on medium heat until onion is translucent. Add two cloves garlic chopped and cook an additional 2-3 minutes. Add jerky, a 14.5 ounce can of diced tomatoes along with a teaspoon of dried parsley and 1/4 cup heavy cream. Salt and pepper to taste. Cook for 8-10 minutes until sauce thickens. Serve with pasta, on a pizza, or toast. Any type of jerky would work in this recipe.
Beans With Beef Jerky
This is a big, cozy meal that could be customized with a jalapeño, different vegetables, beans or toppings. Heat two teaspoons of olive oil in a Dutch oven over medium heat. Add three cups of chopped onion, one cup of chopped green peppers, five minced garlic cloves, and cook five minutes. Add 1 and ½ cups chicken broth ½ cup minced peppered beef jerky, two tablespoons of molasses, two teaspoons of ground cumin and three 15-ounce cans of pinto beans. Bring to a boil stirring occasionally. Cover, reduce heat and simmer one hour. Uncover and cook until liquid is reduced to half.
These recipes should give you a good starting point to start cooking with jerky. It's simple to use, easy to clean up and much healthier than the standard processed bacon bit. Once you try experimenting, you will be surprised at the versatility and wonderful flavor this simple ingredient can add.