Depending on where you live, you might be lucky enough to visit the world's largest living bird at your local zoo or aviary. If you're really lucky, you might get to experience the majesty of a herd of ostriches roaming the semiarid plains and woodlands of Africa. Recently, some extremely lucky citizens – and not-so-lucky police officers – of Alberta, Canada, got to skip the long trip to the plains of Africa to encounter a herd of ostriches up close and personal.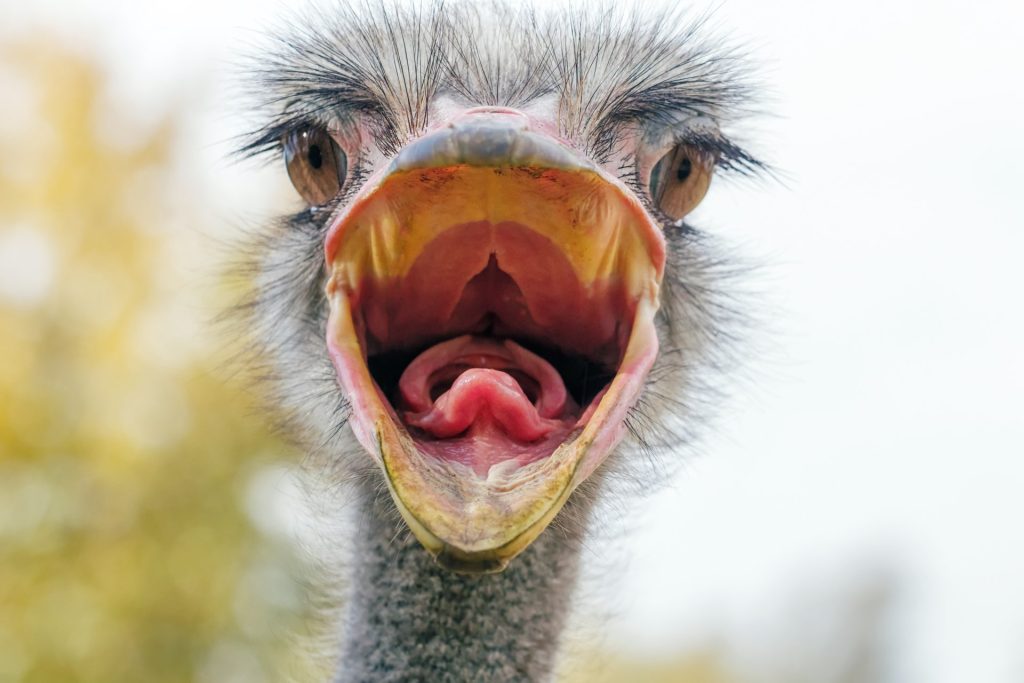 November 26, 2022, will be a day not long forgotten within the ranks of the Taber Police Service and the Royal Canadian Mounted Police. That's because these brave men and women were part of the most entertaining police chase in the history of Canada when 20 ostriches escaped from their enclosure and took a (very speedy) stroll around town. With top speeds of 43 miles per hour, the ostriches gave the officers a run for their money. Thankfully, all were captured safely and returned to their owner unharmed – though videos show that these birds are not just fast, but slippery.
And while ostriches don't exactly make the best pets, they do make for some good eatin'!
Fun Ostrich Facts & The History of Ostrich Meat
"I'm sort of a strange bird." – Ann Bancroft
When it comes to an ostrich, "strange bird" is right! These incredible prehistoric birds have been around for at least 20 million years and have evolved to be the behemoths they are today. Standing as tall as nine feet and weighing up to 320 pounds, ostriches have a max wingspan of 6.6 feet and can cover approximately 16 feet in a single stride.
Other Fun Facts About Ostriches
Ostriches can't fly – but they are the fastest two-legged animal on earth.
They have only two toes, one of which resembles a hoof.
Ostriches can kill a human or a predator with a single forward kick (though they typically run when threatened).
Averaging three pounds and six inches in length, ostrich eggs are the biggest bird eggs on earth (though the smallest in terms of bird-to-egg size).
Ostriches don't actually bury their heads in the sand! However, they do lower their heads as a defense mechanism to hide from predators and the coloring of their plumage blends into the colors of their natural habitat, creating the illusion that their heads are buried.
Ostrich Meat Throughout the Ages
Despite being a – albeit enormous – bird, ostrich is considered the "other red meat." In fact, ostrich is considered by many to be the highest quality red meat in the world and has a similar flavor and texture to beef. Back during the Pleistocene (the geological epoch that lasted from approximately 2,580,000 to 11,700 years ago), ostriches were hunted for their meat, feathers and eggs. They were then semi-domesticated during the Bronze age and fully domesticated in South Africa in the mid-19th century and farmed for their feathers.
Ostriches were first imported from Africa to the United States in the late 1880s and their popularity (mainly for their feathers) has waxed and waned over the decades. In the 1980s ostriches enjoyed a resurgence in popularity, as ostrich meat was "discovered" to be extremely healthy and its meat (and leather) became in high demand.
Ostrich Jerky
Unlike ostrich jerky sticks formed with chopped or ground ostrich meat, our ostrich jerky is made from whole strips of premium ostrich meat. Extremely high in protein (14g in only 56 calories) and low in fat and carbohydrates, our USDA-approved ostrich jerky comes with a hint of black pepper and natural hickory smoke that brings out all of the exotic meaty goodness of our delicious ostrich jerky.
Exotic Jerky Variety Pack
If you're looking to take a walk on the wild side with ostrich jerky, you might be interested in other exotic jerky meats. Mountain America Jerky's Exotic Jerky Sampler 7-Pack gives you a taste of the exotic with alligator jerky, kangaroo jerky, wild boar jerky and more!
And whether you're already a fan of ostrich jerky or merely curious about what the world's largest bird tastes like, you can't go wrong with our handmade ostrich jerky. It might just be our favorite exotic jerky meat… but please don't make us choose just one.