M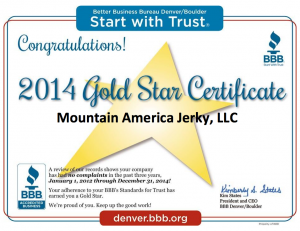 ountain America Jerky is a winner! We are pleased to announce that Mountain America Jerky has been awarded "Winner of a Gold Star Certificate from BBB Denver/Boulder, 2014." Not only do we make excellent jerky, we are a good, honest small business worthy of your business.
The Better Business Bureau awards the Gold Star to businesses who have had no complaints over a three year period. Mountain America Jerky is proud to be honored in this regard and sees the award as a reflection of our high quality business practices. We put as much effort and attention to detail in our customer service as we do our jerky.
Since 1997, Mountain America Jerky has been devoted to producing high quality beef jerky, game meat, fish jerky and exotic jerky. We are dedicated to the process and craft of smoked meats. We hickory smoke in small batches daily using only the highest quality ingredients. We don't use any fillers, nitrates, preservatives or MSG.
Mountain America Jerky remains committed to best practices. All beef jerky is made from local Colorado cows. Our elk, buffalo, and venison meat comes from grass fed animals. Our fish and exotic jerkies are free from steroids and hormones. We use Wild Caught Alaskan Salmon and sushi-grade, dolphin-safe Tuna. Our production facility and all suppliers are USDA/FDA approved and regularly inspected.
Mountain America Jerky wants to extend a heartfelt thank you to the Better Business Bureau for this award.